Development Of High-speed Train System Crucial For Dev't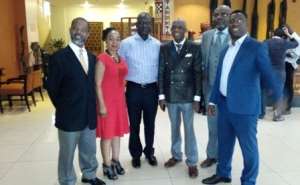 Dr Thomas Mensah, a Ghanaian-American-fibre optics inventor has proposed to government to develop a high-speed train system, using the Kenyan Model.
He said the proposed system would link northern Ghana to the southern part, using the fibre optic technology to optimise travel time.
Dr Mensah, who was speaking at the fourth Cyber Security Awareness Workshop in Accra, said it would reduce travel time from Tamale to Accra to one and a half hours.
He said if the proposal was adopted, the project could be done in three years, and help to reduce the traffic issues in the capital to enable citizens to travel from nearby towns to work in Accra.
Dr Mensah said it would facilitate the government's one district-one factory programme as investors would be establishing industries along the rail line to create more jobs for people.
Dr Mensah said the 10 fastest high-speed rail systems in the world were in Japan, France, China, Germany and Canada, leading the pack, followed by emerging countries such as India, Saudi Arabia, Mexico, Morocco, Ethiopia and Zambia.
He said if Morocco, Ethiopia and Zambia could use the high-speed technology, Ghana ought to be there as well, noting that it was surprising that 'we are not even thinking about it.'
He said there was so much the country could gain from technology transfer to develop the economy and impact on education, road network among others.
Mr Mike Komla Etchi, Managing Consultant of Delta3 International, an Informational Security Advisory Company, on mobile protection, said the most powerful ways to secure the device was by enabling biometrics.
He urged mobile phone users to only download software from providers they trust, calling on them not to disable the built-in security features and avoid sensitive data on their mobile devices.
He said the growing population and digitisation comes with new risks and vulnerabilities that could undermine progress.
'As the African continent's economy moves online, citizens and their infrastructure becomes targets for an increasingly professional cadre of cyber criminals,' he added.
Mr Dele Aden, the Managing Director of Delta3 International, said since the last workshop, new attacker technologies had emerged and experts were also learning and creating awareness on their tactics to prevent hacking.
He said in the New Year, business owners should focus on contacting independent cyber security experts or companies to advise them, as well as train their employees and get regular risk assessment of their data base.
He urged senior Management of companies to learn cyber security related activities to protect their businesses.
'With new threats and vulnerability surfacing daily, training and awareness must be a continuous business priority,' he added.
He said it was important to note that cyber security was not just for Information Technology people; as such their training was formulated for both IT and other employees.
Mr Aden added that hackers were gradually turning their attention to Africa.'