EOCO Lacks Resources But Work Must Go On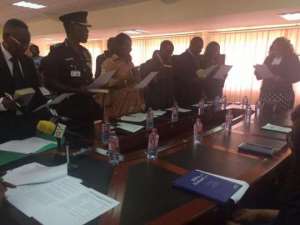 Investigative bodies would in the midst of challenges continue to carry out their mandates effectively in the fight against financial and organised crime, Mr. K.K. Amoah, Acting Executive Secretary, Economic and Organised Crime Office, (EOCO) has said.
Mr Amoah, a Retired Assistant Commissioner of Police, said there were a number of serious cases before the EOCO, while it continued to receive cases daily from the public.
He acknowledged that there had been delays in some of the cases but said it preferred to do thorough and meticulous investigations before handing them over for prosecution.
'There are a lot of cases on hand but we have a team that is working on them,' he stated. 'Investigation is serious work and it takes time, we need to take our time and present a credible docket to the Attorney General. We don't want haphazard cases and we want to avoid that,' he emphasised.
ACP (Rtd) Amoah was speaking to journalists on the sidelines of the inauguration of the EOCO Governing Board, in Accra.
Mr Justice Stephen Alan Brobbey, a Retired Justice of the Supreme Court, is the Chairman.
The Governing Board is mandated to prevent and detect organised crime and facilitate the confiscation of proceeds of crime.
ACP Amoah said meaningful investigations could not be done within two to three months, emphasising that EOCO required ample time to carry out their investigations effectively.
Ms Gloria A. Akuffo, Minister of Justice and Attorney General, indicated that there were challenges facing her Ministry and its affiliates in terms of personnel and accommodation.
These notwithstanding, Ms Akuffo said, it would offer the needed support to EOCO, without interfering in their work.
'I am hopeful that things would improve so that staff would carry out their mandate effectively.'
Madam Akuffo said her Ministry required 600 attorneys to work with, but it was currently functioning half of that number.
However, she explained that her Ministry had been given the green light to recruit only 50 personnel out of 200 applications received.
Her visit to the regions, Madam Akuffo said, indicated that 'situations were dire and we have a lot to do.'
Mr Justice Brobbey, on behalf of the Board, pledged to do their best in the formulation of polices that would promote the investigations and prosecutions of crimes and offences, which fell within their jurisdiction.
'In the era of scientific and technological advancement, offences like cybercrime, internet fraud and transcontinental crime are obviously rampant,' he observed.
Madam Justice Ellen Amoah swore in the nine-member board, which include ACP Amoah, Mr Francis Kofi Torkornoo, Acting Executive Secretary, Narcotics Control Board, Mr Henry Acquah, Deputy Commissioner, Internal Audit- Ghana Revenue Authority.
Others members are: Mr Dick Anyadi, a private Legal Practitioner, Commissioner of Police Dr. George Akuffo Dampare, Director-General, Information and Communication Technology, Ghana Police Service, Colonel Michael Kwadwo Opoku, Director of Operations, Response Centre, National Security Council Secretariat, Deputy Commissioner of Police Mrs Maame Tiwaa Addo Danquah, Director General, Criminal Investigations Department and Mrs Yvonne Atakora Obuobisa, Director of Public Prosecutions.