7 Convicted For Siphoning Diesel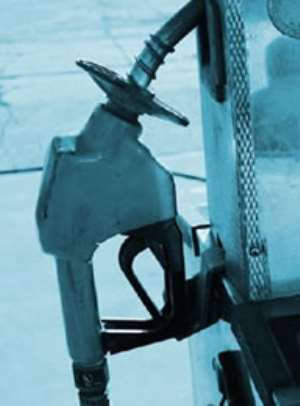 A Circuit court in Tarkwa has fined seven people GHC840 each, for siphoning two drums of diesel belonging to AngloGold Ashanti's (AGA) Iduapriem mine at Tarkwa.
The convicts are Henry Darko, a driver, Solomon Opoku, welder, Joseph Barnes, operator, Raphael Thompson, a welder, Paa Kwesi Turkson, an electrician.
The others are Emmanuel Addai, a mechanic and Emmanuel Gyam, an operator.
They all pleaded guilty with explanation to conspiracy to commit crime and stealing, and each would serve 12 months imprisonment in hard labour if they fail to pay the fine.
Prosecuting, Police Chief Inspector Faustina Celestina Anaman, told the court, that the complainant is Peter Ameseya Ansong, a security officer of AGA, whilst the convicts are workers of Boskudos quarry Limited, a subsidiary company of AGA.
She said on December 2, last year, the complainant had a tip off that two drums of diesel had been stolen within the concession of AGA.
Armed with this information, the complainant directed the security guards at the company's main access gate to be on the lookout.
Inspector Anaman said at about 2330 hours, a vehicle belonging to the quarry company with registration number GS 3543-12 driven by Darko with all the six convicts on board arrived at the security check point.
She said a search conducted in the vehicle by the guards uncovered two drum filled with diesel valued 1,980 Ghana cedis.
According to the prosecutor, when the guards enquired from them where they had the diesel from, the convicts could not give any tangible reason.
The guards informed the security department of the company and the convicts were sent to the Nsuta Wassaw police station and detained to help in investigations.
Inspector Anaman said all the convicts admitted the offense in their respective investigation caution statements and confessed that they had stolen the diesel from their company's loader at their site.
GNA
By Erica Apeatua Addo, GNA