Assorted Teaching And Learning Aids Presented To Yaw Sarfo D/A Primary School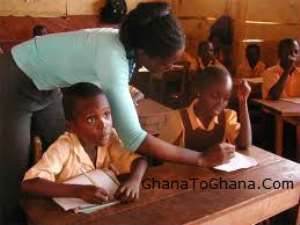 The D/A Primary School at Yaw-Sarfo, a predominantly farming community in the Asante-Akim South Municipality, has taken delivery of assorted teaching and learning aids to raise classroom performance.
They cost about GH¢10,000.00 and included desktop computer, large quantity of exercise books, boxes of chalk, pens, pencils, sharpeners, slates and school bags.
Added to these were sanitary towels and panties for the school girl's.
It was a donation from the Winnie's Women World (W3) Initiative, a non-governmental organization (NGO), working to promote children's education.
Ms. Winifred Selby, its leader, who was on hand to present the items, said their goal was to assist provide the pupils with access to basic essential leaning aids.
It was in line with this that, the NGO, had over the last couple of years reached out to over 3,500 school girls in two regions - Ashanti and Northern.
She advised the children to take responsibility for their own education by accepting to work hard on their books to live their dreams.
They should be ambitious - refuse to be inhibited by their socio-economic conditions.
Mr. Bernard Ayisi, the assistant head teacher, thanked the organization, for the gesture and promised to make sure that these were fairly distributed.
He used the occasion to appeal to the municipal assembly to take urgent steps to tackle the severe congestion in the school that was affecting teaching and learning.
They have been struggling with inadequate classrooms - forcing children at different levels to share the same classroom.
GNA