Encroached Land: MDPI Squatters Agree On Payment Plan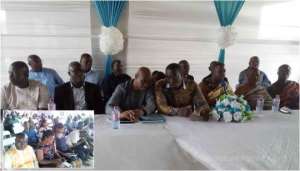 Squatters on the encroached land belonging to the Management Development and Productivity Institute (MDPI) at Baatsonaa, in the Greater Accra Region, has agreed with government to pay for the said encroached land.
Mr Ignatius Baffour Awuah, Minister of Employment and Labour Relations said government would engage the services of the Lands Commission to evaluate the property and decide on how much the occupants should pay.
The Minister said this in an interview with the Ghana News Agency in Accra during an engagement with the occupants on the land.
According to the Minister, the engagement was to have a common date line for every occupant on the encroached land on the payment plan to ensure a peaceful resolution of the matter.
He said a 12-Committee was constituted in May 2017, by the government to investigate the encroachment of State lands of the MDPI at Baatsonaa, in the Ledzokuku-Krowor Municipality of the Greater Accra Region.
The Minister said, out of the 156 acre lands, 366 plots had been encroach upon by squatters, which had been earmarked for a training school for the MDPI.
He said other stakeholders consulted in the course of the Committee's investigations were the Nungua Stool, the Lands Commission, the Ministry of Finance, as well as some residents, who had encroached on the government lands.
Mr Awuah said after almost six months of intensive investigations and interaction with the relevant stakeholders, the Committee recommended that sufficient notices should be submitted to the occupants of the lands for a period of 21 days.
He said government had the right to demolish any structure or obstacles on public lands and terminate any nuisance or interferences of trespassers.
The Minister was impressed with the fruitful interaction with the residents in the attempt to resolve the issue.
Mr Awuah said government would soon issue a White Paper on the Committee's Report in order to determine the way forward.
In an interview with the GNA, some of the occupants of the land, expressed satisfaction with the outcome of the engagement and pleaded with government to give them a period of one year to pay.
Some of the occupants said they are waiting for the Lands Commission to evaluate the property and come out with the cost for them to decide on the payment plan.
However, others also appealed to government to take into consideration the plight of some occupants, who are pensioners and come out with a flexible cost.