Agricultural Products Exporters Urged To Comply With Guidelines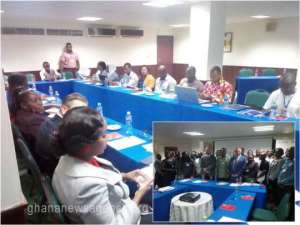 The Ministry of Food and Agriculture has urged exporters of agricultural produce to comply with all regulations and support the Ministry to meet its target of creating jobs through food production.
The Ministry would continue to work with the European Union Vegetable Taskforce to help coordinate affairs of compliance and meeting EU phytosanitary regulations.
Some of the measures include establishing the Green Label Certification system to add value to Ghanaian produce for export, and tightening inspection of horticulture produce submitted for exports at various ports.
Mr George Oduro, the Deputy Minister of Food and Agriculture in charge of Horticulture, said this in Accra at a traceability forum organised by the USAID's Improving Food Safety Systems Project (IFSSP).
The USAID funded the IFSSP to develop a produce traceability system for the country's horticulture industry, strengthen the sanitary and phytosanitary compliance of the chilli and mango value chains, and assist in strengthening the coordination of certification systems.
The project, which started in May 2016, would end in September 2018.
Mr Oduro said the effort of the USAID funded project had contributed to lifting of the four-year ban placed on some selected vegetables entering the EU.
He said since the beginning of the ban in October 2015, the Ministry, with support from its development partners had taken corrective measures to improve on the inspection and control system for plant health at the exit points of Kotoka International Airport.
He said in September 2017, following the visit of auditors from the Directorate-General for Health and Food Safety of the European Commission, the Ministry resolved to collaborate with its partners to put in place a minimum traceability system to help trace produce from farms to shipment.
Mr Oduro said the traceability system would add value to Ghanaian horticulture produce and boost the confidence of consumers from the EU.
It would also help prevent unregistered and uncertified exporters from exporting agricultural produce to the EU.
The IFSSP had procured the services of two IT companies namely Silent Star from Ghana and Geo Traceability Limited from Canada to develop a certification and registration software as well as a traceability software, he added.
He said the Ministry would continue to explore ways of sustaining the traceability system beyond the project.
Mr Kevin Sharp, the Director, USAID Economic Growth Office, Ghana, said as a result of strong collaboration, Ghana could now resume exporting three kinds of gourds, chili pepper and eggplant to the EU.
He said building an effective and efficient food system was a step in the right direction towards ending the country's reliance on aid and promoting the livelihoods of hardworking farmers and other producers. GNA
By Kodjo Adams, GNA