Medifem Showed Love During Val's Day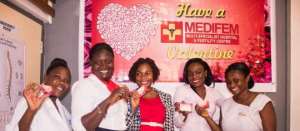 Medifem Multi-Specialist Hospital and Fertility Centre has celebrated Valentine's Day with a renewed commitment to place patient and client satisfaction at the center of its health care provision.
In what was a 'surprise package', the hospital distributed branded chocolates to patients and visitors at its Westland and Dzorwulu premises in Accra, in celebration of the day.
Ms Sena Adjasi, the Business Development Manager of the Hospital said the gesture was in line with the hospital's aim of fostering love between its staff and clients.
She said the facility is constantly seeking innovative ways to provide positive patient experience and to deliver high quality health services to its patrons.
'As a hospital, we take every opportunity to reinforce the message of love. Healthcare provision for us, is an expression of love to our cherished patients who come here to access our services.
'This gesture is only symbolic; it is not so much about the chocolate but the opportunity to connect with everyone who matters to this facility. We are ever committed to improving our services and to make sure that every patient who steps into our facility receives the best of healthcare' Ms Adjasi said.
Patients and visitors of the hospital, who were obviously thrilled by the gesture expressed their gratitude.
Valentine's Day is recognized as a significant cultural, religious and commercial celebration of love with exchange of gifts. In Ghana however, it has been adopted as a Chocolate Day to promote the consumption of chocolate and boost the cocoa sector.
The Multi-Specialist Hospital has been providing various specialized health care services over the past thirteen years.