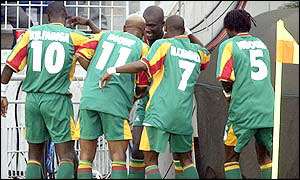 Ghana might not feature in the August seventeenth friendly against Senegal, scheduled for Fulham Park in London due to the lack of English visas for the foreign based players.
Head Coach of the Black Stars, Ratomir Dujkovic told CITI SPORTS that the team might not play the friendly against Senegal unless English visas are acquired for the foreign players.
The Black Stars on Monday, August 08, 2005 received official confirmation from Senegal that they will honor the friendly on August 17 at the Fulham Park in London.
The Stars initially to play the Ivory Coast had to revert to Senegal since France hinted that they will like to play the Ivorians in a friendly on the same day.
Coach Doya, as he is popularly called said the local component of the squad all have visas but the problem is with the foreign squad and since he will not like to play with a cheap set up, there is a possibility that they might be forced to withdraw.
"We have problems with English visas, the local players have no problems, it is the foreign component", said Dujkovic.
"Most of them don't have visas, I don't like to play with a cheap team, I like to play with an active group, a group that are in contention for a call up to play against Uganda on September 4, he added.
The Black Stars are expected to use the friendly against Senegal as a test match in preparation for their impending World Cup qualifier Uganda on September fourth.
The Black Stars' initial friendly against Ivory Coast hit a snag when the French Football Federation confirmed that they will play the Ivory Coast on the same date.
France, originally billed to play Senegal, postponed the game after a request from the Senegalese soccer federation to the effect that the current situation of the national team will not make it appropriate for them to honor that match.
Senegal is struggling to qualify for the 2006 World Cup and last month both their coach Guy Stephan and the African country's sports minister were fired.
France will therefore play the Ivory Coast on the same date but in Montpellier. Almost all the foreign based players have assured the Stars' Coach of their presence except Michael Essien, who has still not solved his transfer problems with Olympique Lyonnais.