February 21, 2018
|
Releases Press Release
Educate Pupils To Stop Stealing Government Textbooks - Read Ghana Foundation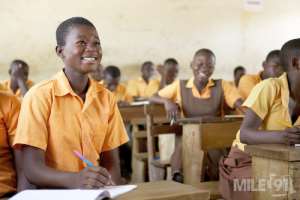 Reading is the key to learning. Becoming a life time reader is based on developing a very deep love for reading at a tender age.
In today's global knowledge-based economy, literacy is an essential skill. Providing easy access to books and promoting the joy of reading for pleasure from a young age is the hallmark of Read Ghana Foundation in collaboration with other important stake holders especially within the education sector.
As we all know, education is one of the most important investments a country can make in its people and its future. With this in mind, it's no wonder several governments and many people in positions of power stress the importance of making sure that, Ghanaian children get the best of education as have been termed "Quality Education."
As much as its importance is stressed, it must however be noted that, one cannot receive a proper or quality education without the right and readily available resources in our educational institutions.
Against this background, it therefore means that,getting the suitable materials means having adequate funding, which Ministry of Education lack due to governmental budget cuts.
It is very clear that, the function of a textbook is essentially to guide the teaching and learning of the curriculum in a particular subject. Against the backdrop of poor teacher context knowledge, textbooks play a fundamental role in supplementing teachers.
Currently, there is a massive shortage of government textbooks for Primary, JHS and SHS in most public schools across the country based on our findings.
Most of the schools, have limited textbooks of all the subjects taught at school which are Mathematics,English,Integrated Science, Social Studies,Religious and Moral Education (RME),ICT,Ghanaian Language etc
This shortage has been attributed to non-frequent supply of textbooks by the Ghana Education Service by many which is very true but the question is the ones that were supplied to schools what can be said of it? Are the quantities the same?
As a result of this nasty situation, pupils or students are being forced to share textbooks in class which is not new to any of us.
The real situations in our schools are common knowledge to all of us. Our schools have been victims of many sorry developments, ranging from infrastructure to shortage of teachers.
We have had several reports of poor pupil performance. Parents/guardians have gone through harrowing psychological and mental conditions over poor feats of their kids. Accusing fingers have been pointed to many factors for such failures. As some blame the school for failing to train students effectively, others lay the blame at the doorsteps of kids; only a few can sit down to do sober reflections on the real cause(s).
The beef of this piece is to discuss briefly how Ghanaian schools are suffering as a result of deficits in the supply of textbooks and other reading materials but most importantly through school pupils or students bad behaviours by constantly stealing government textbooks thereby creating artificial shortages in the various schools across the country.
Reading habits, are very low among pupils. It may be due to laziness on the part of the child but most importantly because the reading materials are limited for them to read as a result of their own bad attitudes.
It is very evident that, pupils or students steal for a variety of reasons. Some steal simply because they want an item and haven't developed the impulse control to curb their behaviour, to express unhappiness or distress or to get back at someone they believe has wronged them, to gain status with their peers or to get attention from their teachers.
These incidents of theft can potentially create conflict and distrust among pupils or students and as a country we need to deal with this situation promptly and sensitively and the right time is now.
Pupils or students have stolen a lot of government textbooks in schools across the country and this has seriously created artificial shortage of the textbooks in the respective schools.
This ugly culture that has been with us for decades, Read Ghana Foundation is of the view that, we all need to launch a campaign against it seriously because it is making the work of teachers very difficult during teaching and learning especially during reading lessons and thereby affecting innocent pupils or students.
As a foundation, that is so much interested in reading and its related issues it is very disheartening to see very limited English Textbooks in schools across the country where you can see about 13 pupils to one English Textbook in most cases during reading lessons and the situation is something else at the rural areas.
We are therefore,calling on teachers, parents, chiefs, pastors,journalists etc to join in the advocacy in order for us to curb this menace especially our hard working teachers who are the very first point of call when it comes to education.
Teachers should try to institute some reward packages in their respective schools for the pupils or students who report their colleagues for stealing government textbooks etc.
Pupils or students caught stealing government textbooks should be punished to serve as deterrent to others.
PTA meetings should be used to educate parents on the need to always check at home to find out whether their kids have stolen government textbooks and if found to be true the textbooks should be returned to the schools by the parents accordingly.
Teachers can do periodic checks of pupils bags at Assembly during closings to see if they will get some stolen textbooks.
Teachers should always monitor the textbooks by counting to see if it up to the exact quantities.
Radio stations,chiefs and pastors must also be seen and heard talking about this ugly and backward attitude among our school pupils.
That not withstanding, pupils or students who feel like reading textbooks at home must ask permission from their teachers so that, proper records can be taken of the textbooks.
Let us all do our best to protect and safeguard the limited government textbooks we have in our Ghanaian schools.
Read Ghana Foundation,is committed to sweeping away the saying that, if you want to hide something from an African then put it in a book so therefore, it is our sacred duty to make sure textbooks are in our schools in large quantities so that, pupils or students will not be overcrowded over textbooks as it is now in our Ghanaian schools.
Long Live Ghana
Long Live GES
Long Live Read Ghana Foundation
Signed:
Mathias Tulasi
Executive Director/Founder
0200255295
Rose Letsu
Executive Secretary
0245028527
Rev Bright Tulasi
Training Officer
0201448461