Gizelle Yajzi's Visa Cancelled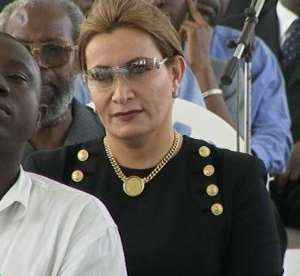 The former presidential Advisor at the centre of the Hotel Kufuor storm is alleging that her visa to Ghana has been cancelled after she announced her preparedness to come down to testify at the Commission on Human Rights And Administrative Justice (CHRAJ).
Speaking last Saturday on Radio Gold, Gizelle Yajzi alleged that her office in the US had received a call on the cancellation of her visa on Friday.
She swore that she intended to come despite the cancellation of the visa by the Ghana embassy in US.
"I'll try to come, I've everything ready, but my office received a call on Friday about 10.30 and 11.00 in the morning, somebody identified himself from the consulate of Ghana telling us my visa to Ghana has been cancelled", Yajzi said.
According to her, even if she is blocked she will still come to Ghana through British Airways.
She pointed out that she would stand on the British Airways stairs and talk to the media without necessarily touching the soil of Ghana.
"I'm going to (Ghana)… If I can't enter I'll stay on the stairs of British Airways talk to you guys and return in the same flight later without touching the soil of Ghana", she said.
Ms. Yajzi said last week that she would be coming to Ghana this week to testify before CHRAJ in investigations into President Kufuor's role in his son's purchase of a hotel complex near his (President Kufuor) residence.
The former presidential advisor alleges that President Kufuor asked her to negotiate the deal for him and that the hotel now known, as "Hotel Kufuor" does not belong to the President's son.