February 19, 2018
|
Press Release
Re: Mahama's Posture Killed Council Of Elders Meeting
 ASK Bagbin Social Media Communicators Network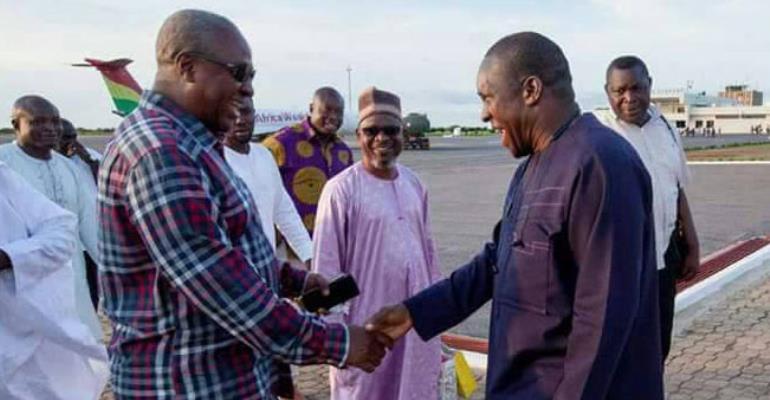 Our attention has been drawn to some factually inaccurate, maliciously fabricated and highly scandalous publications on Daily Guide and Modern Ghana online news portals falsely attributing some unsaid words and statements to the Second Deputy Speaker of Parliament, Hon. Alban S.K Bagbin, following his recent meeting with some constituency executives at Tema. The intent behind that false reportage undermines the much needed unity that Hon. Bagbin and his colleague elders of the party sacrifice their time and resources working for.
For the records, the said meeting did not address "party supporters" as those FALSE publications erroneously suggested. On the 10th of February, 2018, in keeping with the spirit of the on-going reorganization exercise of the NDC, Hon. Alban S.K Bagbin, in his efforts to contribute his bit to the process, made time out of his busy schedules to meet WITH NDC CONSTITUENCY EXECUTIVES from Ashaiman, Tema West, Tema Central and Tema East.
In his speech, whilst explaining the need for the constituency executives to take the reorganization exercise very seriously, Hon. Bagbin acknowledged and commended the committed efforts of the NDC Council of Elders to the reorganization process so far. He also explained that the NDC is united at the head, and that therefore, the constituency executives should also complement the efforts by putting all differences behind them so that, in unity, the party can work hard towards election 2020. He emphasized and insisted that 2020 is non-negotiable and that whoever is nominated to lead the party into the 2020 elections will need the maximum support of all.
We are at a lost why and how that well intentioned message delivered by Hon. Bagbin got corrupted and misreported in the manner that it is carried by the publications. While we appreciate the efforts of the media in reporting what is news, we encourage them to report what is accurate and factual.
Hon. Bagbin is committed to the process of reorganization of the great NDC at all levels and will not be distracted by those self-serving wicked machinations of persons with different agendas. Whiles others choose to walk for unity, Hon. Bagbin and his colleague elders believe that dialogue with party members at all levels – from branch to constituency, though to the national level – is the best way to engender true unity in the party. It is only when people understand each other that they can become truly united. And so, they choose to sit and interact with party supporters, listen to their concerns and they together proffer remedies.
We therefore call on all supporters of the NDC to disregard that malicious reportage as it is calculated by political opponents to cause hatred within the NDC fraternity. We are very confident that with the wealth of experience and leadership skills that Hon. Bagin and his colleagues combined to reorganize and return the NDC to power 2008, the NDC will again regain power within the shortest possible time. Election 2020 is possible together.
Thank You.
3Y3 ZU!
3y3 Za!!
…Signed…
Dabaga Angan-mwini James
Tel: 0241377973
National Cordinator
Biekpe T. Sylvestor
T: 0248532234