Countering The Leakages, Seepages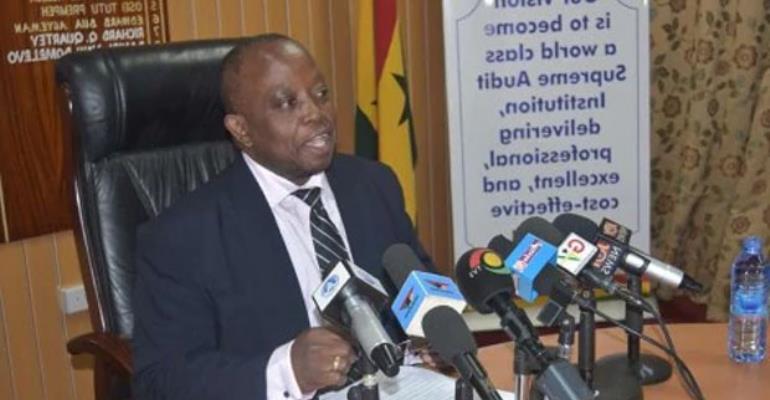 Anybody seeing the level of thievery from the public purse, the absence of value for money transactions by government appointees as exposed by the Auditor-General, would feel like throwing up.
After discovering the wanton scale of thievery, a justifiably incensed Auditor General requested for the bestowal of the power to prosecute the white collar thieves prowling public offices and other spaces in the country.
This country has suffered so much avoidable financial and moral tribulations at the hands of her own citizens. These are persons who should have been at the forefront of securing the public purse.
We wonder what would have become of the health of the nation had the old political order continued to date. Nature has a way of dealing with bad situations anyway. Something just had to happen. That is the election results of 2016.
The impunity with which the state coffers were being raped was just amazing. When the Auditor-General therefore demands prosecutorial powers to respond to the rape, his request is borne from the reality of the scale of looting whose figures he released on the public space recently.
We could almost see the risen adrenalin level in him. As a citizen of this country and not being one of the thieves – he could not hold back the pain hence the request.
For those who do not agree that he be given such power, we disagree with them. So much rape of the public purse has gone on and for too long: the staggering figures require extra hands to deal with what lies ahead.
After all, other agencies like the Social Security and National Insurance Trust (SSNIT) and the Electricity Company of Ghana (ECG) have such powers which enables them to go after defaulters.
Without such powers which they wield responsibly for the recovery of monies from debtors, so much would have been lost. It is not enough for the Auditor-General to come and announce how much has been stolen or misapplied without the power to recover same from the bad guys.
All we need now is the recovery of the stolen monies which we need to sustain the various landmark projects by the President.
Without such powers ceded to other institutions like the Auditor-General, we would be saddling the Special Prosecutor with so much on his already packed menu of thieveries.
The consistent frequency of the Auditor-General disclosing the bad things done to our national purse by those entrusted with the task of managing same would be meaningless when in the end the sentinel of the accounts books is unable to go beyond such disclosures. That is our worry, the worry of the nation: this is an important supplement to the Special Prosecutor's if the ultimate goal of stopping the white collar thieves is to be achieved.