February 19, 2018
|
Opinions Opinion/Feature
Letter To My President, H.E Akuffo Addo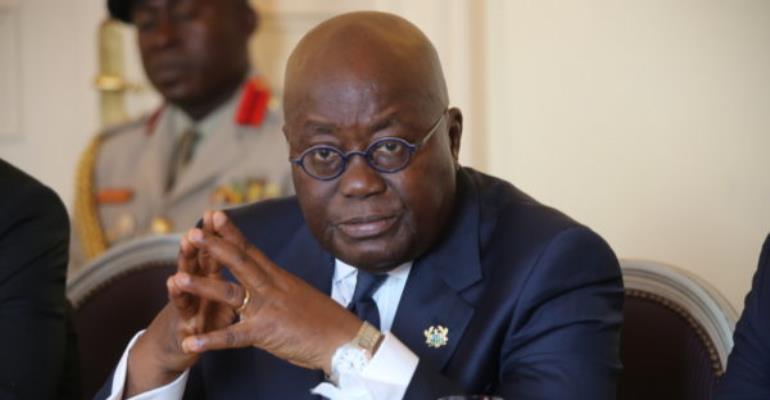 Dear Sir,
*BE TRUTHFUL TO GHANAIANS FOR YOU ARE TOO OLD TO TELL LIES*
During the delivery of your second State of the Nation Address, you stated categorically that, your government has paid half of the debt of which the Former President John Mahama's Administration left behind.
President Mahama's Administration left behind debts and that is a fact. Mr President, I am not a Charted Accountant but my basic accounting theory tells me that, whenever there is a debit entry, there is equally a corresponding credit entry to it. Sir, you made mentioned of the debt you inherited from the previous government but you deliberately refused to talk about the assets you inherited.
I see this as the most hypocritical act ever. In fact, Mr President this your single action is enough to crown you as the most hypocrite and insincere President ever in the history of Ghana.
Mr President respectfully, the debt you inherited did not come about because Mahama's Administration borrowed those moneys to buy luxurious cars for personal use or built mansions in Gonja land. It came about as a result of the Massive Infrastructure (Assets) you see around today.
The E-Blocks you claimed were Photoshop where you have posted students (Free SHS Students) into are part of the assets you inherited; the Ho Airport which intend to name after Former President Rawlings, the Dodowa Hospital, Ridge Hospital, Kwame Nkrumah Interchange, University of Ghana Medical Centre, Tamale Airport, Eastern Corridor Roads, Tema Port Expansion, the numerous Water Projects, the numerous Factories in the Free Zones Enclave, just to mention but few are all assets your government inherited but you shamelessly failed to talk about it because you described them as Photoshop while in Opposition.
You see why I earlier said you are Hypocrite and insincere?
Since you came to power you have also incurred some debt. In fact Ghana's Debt Stock has gone up from GHC 122billion in 2016 to GHC150billion as at 2017 ending. Can you point out to one single project you have used that money for ? Hell No!!!
Ghanaians have lost trust and interest in you because reality has hit them hard but unfortunately your appointees and the your bootlicker in media are not telling you the realities on grounds.
Mr President, swallow the pride and the arrogance and be truthful for the earlier you tell Ghanaians the truth, the better for you.
Thanks
...............signed.................
*_Sirr Abdullah_*
*I'm a Citizen not a Spectator*