Abura Chiefs call for the rehabilitation of link road
News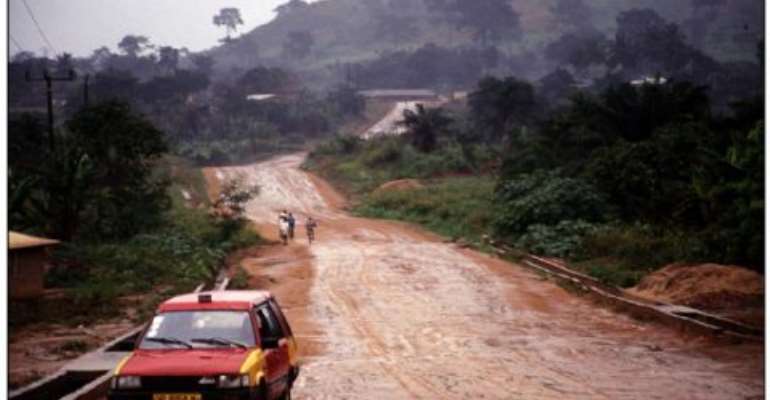 Abora-Obohen (C/R), Aug. 7, GNA-A group of chiefs in the Abora-Etsifi area of the Abora-Asebu-Kwamankesse District of the Central Region, at the eekend called on the Government to resume rehabilitation work on the 18-kilometre stretch of road linking Abora Afrangua-Junction and Abora-Dunkwa without further delay
It is the shortest road that links the Abora-Asebu-Kwamankesse and the Mfantsiman districts.
Making the call at an emergency meeting at Abora-Obohen, the chiefs, led by Nana Bentsil I, Mpontuhene of the Abora Traditional Area, maintained that the deplorable state of the road had made it very difficult for vehicles to ply it.
The situation , the chiefs contended, had compelled inhabitants in affected communities to, at times, carry their sick relatives for long distances before they could secure transport to send them to hospital.
Nana Bentsil said the most disturbing aspect was that in some cases the seriously-ill persons die on their way to hospital. He said rehabilitation works on the road was abandoned by the contractor executing the project shortly after the 2004 general elections, adding that recent heavy rains that caused rivers in the area to overflow their banks had aggravated the situation.
Nana Bentsil also stressed the need for government to connect communities in the Abora-Etsifi area to the national electricity grid to open the area to investors to establish cottage industries to stem the rural-urban drift of the youth.
Nana Yabiwah II, Queenmother of the area called for the provision of a health post to cater for the health needs of the people, most of whom were farmers.
The assemblyman for the area, Mr Andy Amoah and Nana Obosu, regent of Abora-Bando, appealed to the government to help the people establish secondary/technical and vocational institutions in the area.