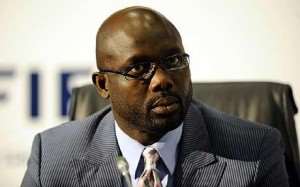 Last month George Oppong Weah, a former professional football player, was sworn in as Liberia's president, succeeding Ellen Johnson Sirleaf, Africa's first female elected head of state. The football legend's inauguration marked the first transfer of power from one democratically-elected government to another in Liberia's history in more than four decades.
The latest presidential inauguration in Liberia was not only an important political landmark for the country by enhancing its image as a stable democracy, but it was also important in another respect. As a peaceful and constitutional transition, it reinforced an emerging trend which has seen in recent years various nations on the continent, many of which had been under military dictatorships for years, opting for the democratic process and the rule of law. Within the last five years or so Nigeria, The Gambia, Senegal, Ghana, Ivory Coast, Angola and Kenya have all utilized the ballot box either to effect a transfer of power or to renew the mandate of an incumbent.
Adapting to the politics of the ballot box didn't come without a hitch in some of these countries, however. After initially conceding defeat, the mercurial incumbent president of The Gambia, Yahya Jammeh, took his words back almost as soon as he had spoken them in a dramatic turn of events that sent heads spinning. It took the threat of military action from the regional bloc, ECOWAS, to get him to relinquish power and go off into exile.
And in Kenya, the opposition party led by Raila Odinga disputed the election results, citing voting irregularities as well as questionable conduct on the part of election officials. As a result of the opposition's rejection of the electoral outcome and a subsequent legal challenge, the Kenyan Supreme Court, in a rare move, annulled the vote and called for new elections.
The second balotting, which was boycotted by the opposition due to the government's refusal to meet its demands, cleared the way for the incumbent president, Uhuru Kenyatta, to be sworn into a second term, albeit tainted by the stigma of illegitimacy.
But the recent gains made by the forces of democracy, such as they are, appear to be offset or counter-balanced by the efforts of some rulers who have no use for constitutional government or the rule of law. These despots have been orchestrating constitutional changes intended to extend their stay in power indefinitely. Burundi's Pierre Nkurunziza has gone down this route; and so has Rwanda's Paul Kagame; and so has Uganda's Yoweri Museveni. These three leaders, who are coincidentally next-door neighbors, share a reputation for ruthlessness against those who dare oppose them. Thousands have been killed in Burundi for resisting their president's brazen attempt to impose himself on the country, while opposition leaders and their supporters have been thrown into jail in both Rwanda and Uganda.
Other despots refuse even to go through the motions of constitutional referendums; they simply stay put when their terms expire. This is the path taken by the likes of Joseph Kabila of the Democratic Republic of Congo and Faure Gnassingbe of Togo. Interestingly, both these dictators assumed power following the deaths of their equally despotic fathers and seem intent on instituting dynastic rule in their respective countries.
The behavior of these African leaders, as well as a host of others not mentioned here, many of whom either led or played pivotal roles in their countries' fight for independence, has undoubtedly led to so much disillusionment and despair among their populations that many would jump at the opportunity to live under colonial rule again.
Their misrule and repression, coupled with the culture of unbridled corruption and plain thievery which adversely impacts the social and economic wellbeing of the citizens, are mostly at the root of the ongoing migrant tragedies in the Mediterranean and elsewhere, the bulk of the victims being sub-Saharan Africans.
People are being pushed to make the grim choice between a life of eternal destitution and hopelessness at home and taking their chances in desperate and dangerous adventures to reach Europe in quest of a better life.
But there is hope. The momentum is on the side of freedom and democracy. After all, who could have imagined that the people of The Gambia and Zimbabwe would be breathing the refreshing air of freedom any time soon? Or who could have foreseen the dismantling of the abominable Apartheid system in South Africa in our lifetime?
Furthermore, if democracy has found fertile ground again even in places such as Liberia where such a development would have been unthinkable only a few years ago, it is not inconceivable that, in time, millions of others on the continent who have been trapped behind the iron curtain of of totalitarian rule will also be free.