KMA to establish waste management plant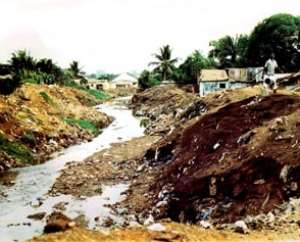 Kumasi, Aug. 7, GNA - The Kumasi Metropolitan Assembly (KMA) is to establish a waste management treatment plant at its landfill site at Dompoase in the Kumasi metropolis, Mr Anthony Mensah, Director of the Waste Management Department of the Assembly said at the weekend. He said there were plans to use the gas that would be produced from the landfill project to generate electric power.
Mr Mensah announced this when a 30-member delegation led by Madam Fatima Legma from the North Central Region of Burkina Faso paid a familiarisation visit to the site on Saturday.
The delegation comprising three ministers and service directors is currently on a nine-day tour of the Ashanti Region. He said the facility, which started five years ago, was located on a 100-acre land and sponsored by the World Bank at the cost of four million dollars.
Out of the 1,000 tonnes of solid waste produced in the Kumasi metropolis daily, the KMA is able to collect between 700 and 800 tonnes while the rest are done by private contractors, he said.