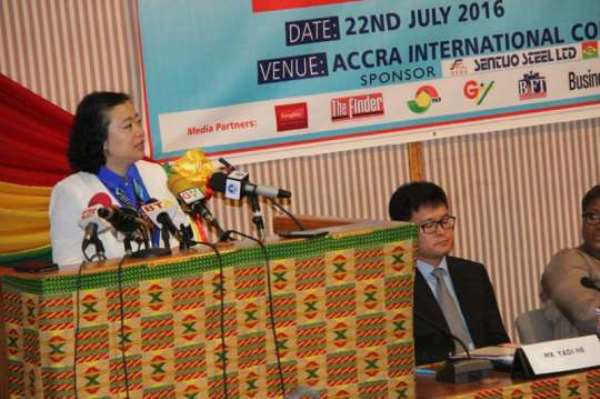 The 2018 Chinese New Year has been marked at the University of Ghana Basic Schools in Accra.
Also known as the Spring Festival, the event, which is marked at the turn of the Chinese calendar, has been celebrated for over 4000 years.
Ms Sun Baohong, Ambassador of the People's Republic of China to Ghana, in her New Year message said Ghana and China would scale new heights of mutual collaboration and corporation.
She said the two countries had done a lot of fruitful collaboration, adding that, the Model Confucius Institute at the University of Ghana-Legon, was a typical example of the collaboration between the two countries.
Ms Sun observed that the Institute, which was a Chinese Centre of Learning, had promoted Ghana-China relations through granting scholarships to Ghanaian students to study in China, and promoting inter-cultural studies between the two countries, for more understanding.
The Chinese Ambassador congratulated the authorities of the University of Ghana, as well as the Confucius Institute, for contributing towards the effective corporation between the two countries by helping with the establishment of the Institute.
She said the Confucius Institute should be used as a bridge to foster more collaboration between the two countries, for mutual growth.
Prof. Samuel Kwame Offei, Pro-Vice Chancellor of the University of Ghana, said it was important to keep alive the culture of any society.
He said the festival reflected the Chinese people's attachment to their origins and added that this kind of attitude, helped shaped any society's future towards the right direction.
The Pro-Vice Chancellor said 'when people abandon their origins and culture completely, they risk failure in the future, because every society derives its present and future to a large extent from its past.'
He said as Ghana-China relations grew, it was important to learn from each others' culture because, that helped to foster better understanding, friendship and cooperation.
Mr Kojo Amoo-Gottfried, President of the Ghana China Friendship Association, said the level of cooperation and collaboration that had been attained by the two countries was laudable.
'Our solidarity should be strengthened at every step of our relations,' he said.
There were performances of Chinese Martial Arts, Chinese Classic Dance, and traditional Chinese Instruments by students of the Confucius Institute and a delegation from the Zhejiang University of Technology.
The programme was sponsored by the Confucius Institute Headquarters in Hanban, and hosted by the Confucius Institute of the University of Ghana.
The Zhejiang University of technology and the University of Ghana Basic Schools also supported the programme.
GNA
By Robert Anane/Elizabeth Ofosu, GNA