Remittances Are Crucial To The Stability Of The Cedi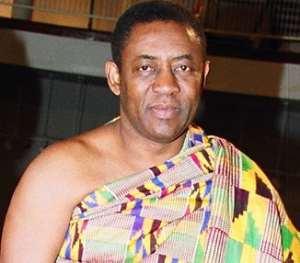 H.E. Mr. Isaac Osei, Ghana's High Commissioner to the UK has said in London that remittances sent by Ghanaians living abroad is crucial to the stability of the cedi.
He observed that Money Transfer Agencies continue to play a significant role in increasing the level of remittances to the country and explained that the growing volume of foreign currency channelled into the economy would provide government with the needed resources for national development.
"The increased inflows of foreign currency has contributed in no small measure to the modest appreciation of the cedi against the major currencies in recent times" said Mr. Osei.
Mr. Isaac Osei made these observations when officials of Moneygram International, sponsors of "Mmaa Nkomo" talk show, led members of 3A's Productions, producers of the show to pay a courtesy call on him. The 3A's Productions was in the UK to record a number of programmes in collaboration with the Ghana High Commission.
Members of the delegation included Mrs. Georgina Essah, Head of Remittance Department, Mr. Cecil Sunkwa-Mills, Head of Promotion and Distribution, both of SG-SSB Moneygram, Ms Wilhelmina Quartey, Director of 3A's Productions, Mr. Gideon Botchway and Mr. Ralph Agbodzi, cameramen of 3A's Productions.
High Commissioner Osei welcomed the decision of the management of the SG-SSB Moneygram to expand the scale of its operations worldwide and noted that the strategy would help provide employment.
Mr. Osei advised Moneygram to come out with more innovative products and attractive rates to win over more clients in what he described as "an increasingly competitive industry"
He also revealed that the British Government would soon announced new policy guidelines to regulate the operations of money transfer agencies in the UK and urged the management of Moneygram to take cognizance of such developments in formulating their marketing strategies.
Mr. Sunkwa-Mills disclosed that the Moneygram would soon introduce a new product which would enable Ghanaians living abroad to pay money directly into their bank accounts in Ghana.
He also thanked the High Commissioner for the support accorded 3A's Productions during their trips to the UK and expressed the hope that this partnership would continue in the future.