Early Diagnosed Breast Cancer Patients To Enjoy Free Treatment—BCI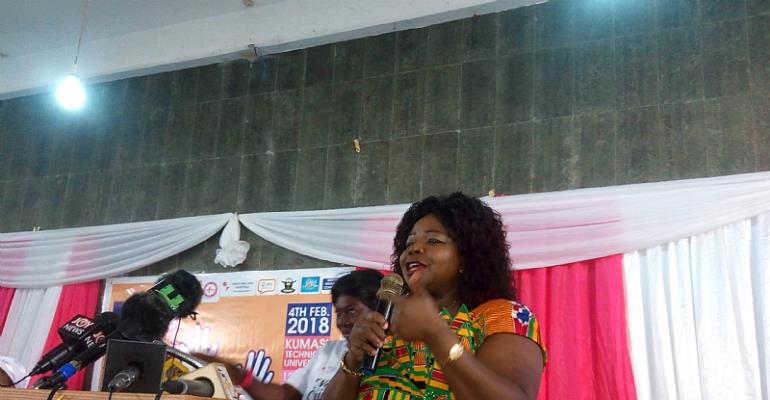 One of Africa's leading Breast Cancer awareness organizations, Breast Care International (BCI) has indicated that women diagnosed of having cancer of the breast who go to their Peace and Love Hospitals early would have treatment for free.
According to the organization, it is treading on the path of the Union for International Cancer Control's (UICC) initiative; Treatment For All, which calls for urgent response to improve access to diagnosis and cancer treatment.
Speaking at a durbar in Kumasi to cerebrate the 2018 World Cancer Day, President of Breast Care International, Dr. (Mrs) Beatrice Wiafe Addai noted that BCI is committed to creating equal opportunities for all women, both rich and poor, to have better breast cancer education and treatment.
Dr. Wiafe Addai who is President elect of African Organization for Research and Training in Cancer (AORTIC), said it is saddening that breast cancer, a curable disease, is taking many women to their early grave when there are numerous efficacious treatment options available in Ghana.
"We totally reject the increasing number of cancer cases recorded annually at our health institutions, a good number of them very young patients, good reason for incorporating social media platforms into our communication strategy to draw the attention of the younger population to the debilitating effects of cancers and the urgent need to report the condition promptly to hospitals for effective treatment", Dr Beatrice Wiafe Addai declared.
She charged the youthful population to draw on the immense popularity and influence of social media to highlight and bring to the force, risks associated with cancers and their devastating effects on families, society and national productivity level.
Tagging along the global theme of "We Can, I Can", Dr (Mrs) Beatrice Wiafe Addai called for a united front to raise the profile of cancer in a positive and more inspiring way to contain the menace.
The renowned oncologist said statistics by the World Health Organization, and the other reputable research findings regrettably capture and project cancers as the leading cause of death in almost every region of the globe, adding that the fact that by 2030 ,if nothing is done, about 70 percent of all cancer deaths would be coming from the developing world, call for the support of government, individuals and groups to fight cancers.
She commended Ghana government's recognition of cancers as a national burden by being determined to establish cancer centers at all healthcare delivery outfits for the screening, diagnosis for early detection and prevention of cancers, the cost of which are to be borne by the restructured ,and revitalised National Health Insurance Scheme.
Dr. (Mrs) Beatrice Wiafe Addai at the programme which brought together over thousand participants appealed to individuals, groups and organizations to support Breast Care International's quest to give free treatment to patients who are diagnosed early. She explained that money to cover the treatment is being raised from a special project called "1 GHC To Save A Breast A Life" to which donors are to dial *711 *911# on all telecommunication networks to contribute GHC 1.00 to support.
Also present at this year's World Cancer Day under the auspices of Breast Care International, which is a member of UICC, and Peace and Love Hospitals were the Ashanti Regional Minister, Mr Simon Osei Mensah and the Kumasi City Mayor, Mr Osei Asibey Antwi.
In their speeches, the two leaders acknowledged the immeasurable contributing of Breast Care International in creating awareness about breast cancer in particular and other communicable diseases and pledged their increased cooperation to attain the target of reducing cancer deaths by 2025.
The two praised Dr. (Mrs) Beatrice Wiafe Addai for her role played in securing the building of the world's fourth and Africa's first ever ultramodern cancer center in Kumasi, a project which is to start sooner.