Student Activist Writes: Letter To All Students Of The University Of Education, Winneba (Mampong Campus)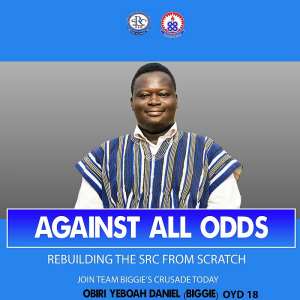 Dearest,
I hug you with the warmth of my ink, raining on you springs of hope and praying your results be more amazing than your expectations.
As the crawling passage of time brings our results closer; hearts are arrested with tachycardia, as anxious eyes can no longer wait to be fed with the results of their efforts last semester.
Whilst some have worn their expectations cap; others have started one month FASTING and PRAYERS so as to escape trails, but soon everything shall be fine. Some students; especially first years, which is expected though, are so worried about their results that they keep thinking about it every split second...
But my Dearest, the least of your worries now is to worry, for worry doesn't curtail the future's troubles but it sure robs you of the moment's peace.
My friend, I know you are a champ and you did your best, so kindly relax and get yourself an ICY CUP joint and chill at one corner for the good Lord who has brought you this far, will never leave you thus far!
Each of us is a Star but sometimes our brightness diminishes amidst the galaxy, our dreams fail to dramatise at the planned stages and we tend to cage our minds with emotions full of commotions..
But let's understand that life is full of struggles, mostly angled in our success triangle, we give our best yet life treat us like pest. But the beauty is that we aren't alone in our troubles and our troubles wouldn't trouble us forever; so let's challenge our challenges, encourage our courage and prove our self to ourselves..
In all situations: kindly know that there's more hope to live, more faith than to fail, always tell yourself that it's still possible to achieve that CLASS you targeted, even if your current RESULTS may disagree.
I wish to see you with the brightest smiles radiating from your cute face, all the best in your results.
Your Humble Brother and friend:
OBIRI-YEBOAH Alias BIGGIE
DEPARTMENT OF ENVIRONMENTAL HEALTH AND SANITATION EDUCATION - LEVEL 200 .