Harrington Brooks Financial Solutions Teams Up With Billy Yeboah To Provide Computers To Ghana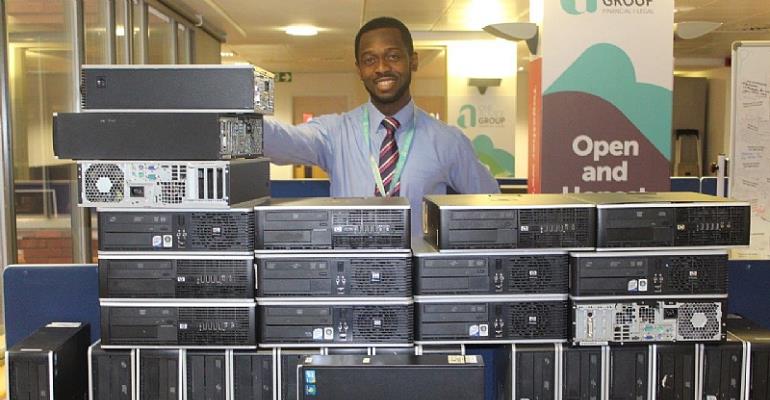 A Ghanaian based in Manchester Billy Kwasi Yeboah has teamed up with his company Harrington Brooks Financial Solutions to donate 25 computers to needy institutions in Ghana.
The beneficiaries include Evergreen Club of Ghana, Jachie School for the disabled,Educational Empowerment Initiative,Asokore Community Library and Assin Asamankese DA Primary School .
The unique partnership between Billy and his company was initiated as part of the company's corporate social responsibility program which seeks to recycle their useful but unused computers as the keep up with the latest technology.
In an interview with Billy Kwasi Yeboah who works at the finance department of the Harrington Brooks Financial Solutions in Manchester,he was touched by the plight of pupils of Assin Asamankese DA Primary school who do not have access to computers and were shown in a video practicing how to click a computer mouse with stones
https://102tube.com/video/YrAfnV6ORw4/learning- ict -with-stones-joy-news-prime-12-6-17-.html
According to Billy he decided to initiate the computer recycling project which his company adopted.He said recycling computers conserves natural resources when one chooses to recycle rather than throw out their old computers, they help to limit the amount of resources that it requires to produce new electronic items. This is due to the fact that there are many components on old computers that can be reused in the fabrication of new computers.
He said he will continue to champion the computer recycling project at Harrington Brooks Financial Solutions as recycled computers that are still in relatively decent working condition can be hugely beneficial and utilized by needy schools and communities in Ghana.