The invisible victims of Congo's strife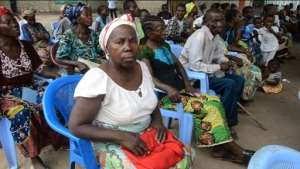 "I absolutely have to get back to Pool," says Lydie Bitsindou, a farmer obsessed by returning to her patch of land.
She is among tens of thousands of forgotten people -- families who have been displaced by fighting from Pool, a fertile region south of the Republic of Congo's capital Brazzaville. Many owe their survival today to the kindness of strangers who have taken them in.
With her seven children, Bitsindou, 48, fled clashes that erupted between President Denis Sassou Nguesso's troops and fighters loyal to Frederic Bintsamou, a foe of the regime usually known as Pastor Ntumi.
The volatile territory is famed for the food it provides to the city, from the staple root cassave to market garden produce.
The conflict broke out after Sassou Nguesso's controversial re-election on the strength of an October 2015 constitutional referendum that enabled him to stand.
Few outsiders have been able to witness the warfare in Pool, where military helicopters bomb villages and their fleeing inhabitants, far from the lens of any camera and from any human rights observer.
Desperate villagers have to eat whatever they find in the forest, without help from relief organisations, according to the humanitarian news agency IRIN, which was among the first to reach the conflict zone in December 2017.
At least 138,000 people are estimated to have been driven from their homes in a country of some five million.
But these displaced folk are as invisible as the conflict itself. Instead of settling in camps on the outskirts of Brazzaville, they have largely been taken in by generous families.
"The sub-prefecture of Goma Tse-Tse counted 15,000 inhabitants before the crisis. About 1,100 of them have been trapped in their villages, while all the others chose to leave," said Prosper Diatoulou, the district's chief administrator.
'An end to this ordeal'
Poverty and humiliation mark their daily rituals, alleviated by occasional support.
"Today I'm at least going to sleep on a mat -- up till now, I've been sleeping on boxes and empty flour sacks," Bintsindou said after the American agency USAID carried out an aid distribution for 1,000 people.
"I absolutely have to get back to Pool! My land is untended. It's time to go to back -- harvest-time is long since past," she added, elegantly clad in a green wrap given to her by a sister.
"I've been left out from the distribution," 77-year-old Roger Malonga grumbles under his red hat. The former employee of the Congo-Ocean railway (CFCO) linking Brazzaville with the Atlantic is also burning with desire to go home.
"I get some sleep sometimes during funeral vigils or on stalls in the market. I need to return to Pool to put an end to this ordeal," Malonga declares.
The two sides reached a peace accord on December 23 last year under which the rebels would disarm, state authority would control to the region, populations would "return to their places of origin" and there would be "free circulation of people, goods and services."
But progress in implementing the deal is patchy.
The railway line linking Brazzaville with the port city of Pointe-Noire has had no trains since the end of 2016 and some of its equipment has been damaged.
However, traffic on Highway 1 between Brazzaville and Pointe-Noire has increased since the army lifted several roadblocks.
"We have noticed that military deployment has eased a bit at some checkpoints," driver Cyrille Mabika told AFP.
On the road between Brazzaville and Kinkala, the main town in Pool, "there are troops who search our vehicles to the last details. But they are no longer as aggressive as before," another driver said.
A joint committee, set up by the government and rebels, is looking at the next thorny issue -- lifting an arrest warrant against Pastor Ntumi. But the question remains open as to whether this will be the last step before villagers are able to return to the land they love.