February 9, 2018
|
Business & Finance
US FED Group, Heritage Securities Promotes Export Trade Financing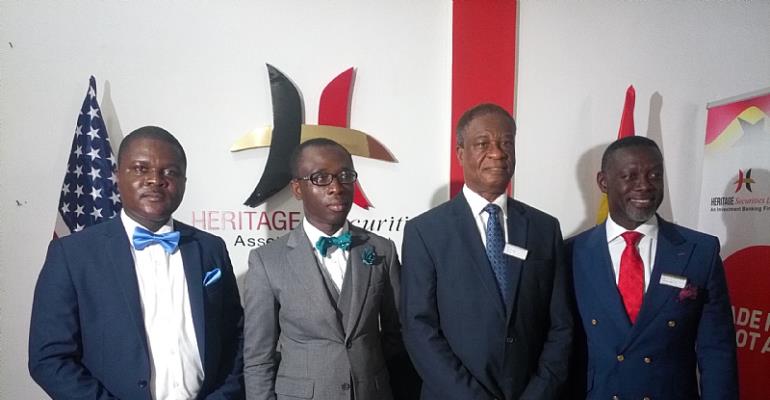 The United States Friendship and Economic Development Group (FED Group) in partnership with Heritage Securities Limited will provide foreign market access-entry and financing to rising local businesses who are faced with difficulties in doing business outside the country up to US$300million.
United States FED Group is a supply driven Foreign Exports Development, Financing and Trade consortium of U.S. suppliers, original equipment manufacturers (OEMs), service providers engaged in export trade.
Speaking at the launch of the US -Ghana Trade Hub, Mark Darko who doubles as the Managing Director of Heritage Securities Limited and Managing General Partner of the US FED Group said this is the perfect time for those with financial demand can now have access to United States private and/or public sectors funding.
He indicated that as a member of the consortium in Ghana the Group may represent public and or private sectors interests (referred to as Foreign Principals) to the United States.
Mr. Darko noted that clients such as Heads of State, Prime Ministers, Departments & Ministries of Government, including Municipal Governments, agencies and parastatals of government; Other Branches of Government, the Legislature and Judiciary, domestic Public Corporations, Concessions and Foreign Nationals can be represented.
He added that Heritage Securities Limited in partnership with the US Fed Group provides one-on-one foreign market access-entry and export trade development after being issued a membership certificate.
"We engage in Development-Backed Advisory where we may engage in advisory, consulting and advocacy for any Foreign Principal not on US Government OFAC "Do Not Do Business" as it were, list. As part of our consulting, we shall advise whether or not, a Sovereign Government or foreign national is unlisted. All US FED Group advisory, consultancy and or advocacy, fee for services, are determined on "risk mitigation" of each Sovereign Nation State. There is no membership fee, but membership is by referral of members only," the MD stated.
According to him, foreign buyers using US FED Group as their "outsourced" department, may procure from the consortium, any consumer goods; petroleum products and transportation vehicles, made specially for emerging markets; security-safety equipment; most other products and services necessary to run a business or government; "Soup to Nuts", period.
He intimated that this is the solution for doing business with the United States, through an entity that has the reach and breath to provide our local firms the supply they require and financing as warranted.
Mr. Darko added that similar Trade Hub will be launched in Kumasi and other regions across the country.
Executive Chairman of Heritage Securities Limited, Gideon Quist emphasized that they have Economic-Commerce interest and the demand for everything U.S.
He posited that the U.S. has supply for everything they demand, including funding and financing as warranted, for those entities that are Trade-Backed Ready, Capable and Able.
"Trade-First and not Aid is not mere rhetoric. We already have Ghanaian firms, first on board being processed in answering President Akufo-Addo Trade-First, Not Aid, which is in line with the American President Trump as well. So in this regard, these two leaders see Eye to Eye in betterment of their respective nation states. This is a win-win, not-so? It is," Mr. Quist indicated.
Director of Heritage Securities Limited, Edward Agyekum Kufuor noted that where there is a legitimate financing demand of a Foreign Principal, US FED Group is prepared to advise, consult, advocate, arrange, facilitate or provide the warranted solutions for any non-US jurisdictional public and or private sectors markets.