Residents of Sunyani mourn Ebony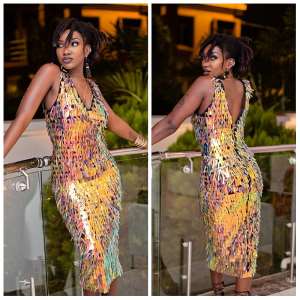 Residents of Sunyani are in a state of shock following the death of 22-year old Priscilla Opoku Kwarteng, better known in Show Business as Ebony Reigns.
For the greater part of today, residents of Sunyani were seen in groups of three or more discussing the bad news with most people sharing her pictures and videos.
They consider Ebony as their own because her father hails from Sunyani where she was born and started her education.
Ebony was born in Sunyani and had her pre-school education at the Glory KinderCare, the premier private pre-school in Sunyani, before continuing at the defunct Christ International Preparatory School, popularly called Mama Lawson, also in Sunyani.
Family sources told newsmen that she was later taken to Accra by her father, Kwame Opoku Kwarteng to continue her education.
Ebony's father is a native of Area Two, a suburb of Sunyani while her mother hails from Bechem, also in the Brong Ahafo Region.
Ebony, together with her bodyguard, Francis Atsu Vondee who hails from Adedome in the Volta Region and Franky Kuri, a childhood friend of the Star, died instantly in a car crash at Nyamebekyere near Mankranso in the Ashanti Region when the vehicle they were travelling on collided with a VIP bus.
Ebony's driver, who sustained varying degrees of injury is said to be responding to treatment at the hospital.
The dancehall artiste was returning from Sunyani where he had paid a surprised visit to her mum and other family members.
When our correspondent visited the residence of Ebony's mother, Elizabeth Oppong at Ohene Djan, a suburb of Sunyani, relatives and friends were still yet to come to terms with the news that their cherished daughter, who was with them hours ago, was no-more.
The mother, U.K based business-woman is in town for holidays and as a result, Ebony decided to pay her a surprised visit.
"She arrived in the early hours of the day and was lodging at the Regent Hotel near Ohene-Djan with her driver, bodyguard and another friend before they finally came home in the afternoon around 2:30pm", Mercy Yaa Frimpomaa, a younger sister of Ebony's mother told newsmen in Sunyani.
She said upon arrival in the house, Ebony hugged everybody in the house, had good time with everyone and later requested her mum to prepare "Ampesi" (boiled yam) with stew for her.
"While we were preparing the food, she came back and said she would rather eat jollof rice and so we immediately stopped the "ampesi" and started work on the jollof rice."
After wining and dining, the singer bid them farewell, saying she needed to be in Accra the next morning.
"Her mother prevailed on her to stay, sleep and go the next morning but she stood on her grounds and so we allowed her to go until this morning that we also heard in news that she was involved in an accident."
"Her two other siblings and her father are on their way from Accra to Sunyani"
END