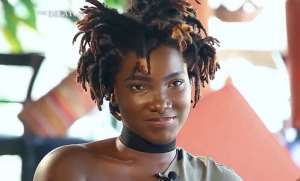 Late Ebony
No society will become lively in the absence of entertainers like musicians, comedians, actresses or actors. For this reason, Ghana as a country is gifted and blessed with great acts including the departed and the currently living. Talking about the departed reminds me of departed talented youngsters including Terry Nii Okang Mensah Adjetey popularly known as Terry Bonchaka who died in a fatal car accident on his way from legon after performing at the Akuafo Hall week celebration. He performed marvelously and his stagecraft was just an exciting sight to behold. Terry Bonchaka died on the 29 of October 2003 at the age of 21years.
Related to Terry's death was the demise of a very talented, vibrant and energetic actress by name Suzzy Williams who also died on the 8th of September 2005 at the age of 23 years. The late Suzzy died from a car accident as well on the main LA-Teshie Nungua Highway. Fresh on our minds was the sudden disappearance of Theophilus Tagoe (a.k.a Castro) whose sad ordeal occurred on the 6th of July 2014. Castro was with Miss Janet Bandu when they both drowned/disappeared following a jet ski accident in Ada Estuary while on holiday with Asamoah gyan and Baffour Gyan.
Shockingly, in the early hours of 9th Febuary 2018, news broke out on the death of Priscilla Opoku Boateng, known in the showbiz business as Ebony or #Ebonyreigns as having being involved in a fatal car accident which claimed three lives including herself, her best friend by name as Franky Kury, her body guard and living the driver in a critical condition. Ebony was 20years old when her car collided with a VIP bus on her way from Sunyani to Kumasi. She was vibrant, possessive and energetic. Ebony regardless of the criticisms leveled against her regarding the way and manner at which she dressed was always focused on her career which placed her on top on everyone's song list ahead of her colleague female artiste she came to meet in the industry.
Though young, her talents were enviable and portrayed who she would have become few years from now if she kept on with such amazing talent. She had hit songs upon hits in the year 2017 from her track "poison, sponsor, date your father, hustle and maame hwe" etc. When I heard of the news from a friend early in the morning same day, I told him it was a prank and a mere controversy, a marketing strategy to widen her fan base and increase her fame but I knew little at the moment. Later when I was informed with pictures of her death and from the media, I was lost within myself. I wondered and wandered why this happened to such a poor and young soul who had lots in life to learn and achieve. It is sad, it is unfortunate. Death is indeed no respecter of persons
It will appear more like, someone is doing an industry clean-up where by young talented acts are deleted to make way for someone to sweep awards or regain his or her fame. Regardless, death is for all and the one who kills shall definitely die one day. My condolence and good will messages goes out to her family, friends and the entire nation left in grieve this day.
Your talent and free spirited self will always leave this mnemonic for us as Ghanaians to remember you just as the departed souls still lives on in our hearts and minds. Rest in Perfect Peace Ebony.
God lives to glorify his people.
Writer: Emmanuel De-Graft Quarshie
Degraftxclusive.blogspot.com
Accra Central-Connect with Ghana news page