Sex Guest House Closed Down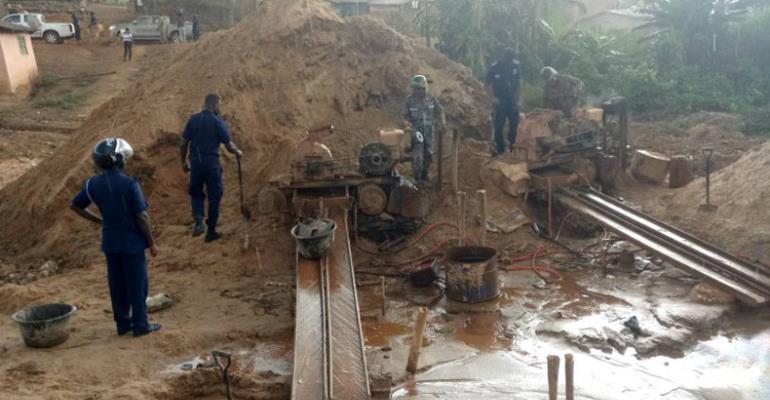 DAILY GUIDE has gathered that the police personnel who raided an illegal mining site at Wassa Manso in the Western Region did not only arrest the 'galamseyers' but closed down a guest house patronized by commercial sex workers, drug addicts and peddlers.
According to sources, the police stormed the guest house allegedly belonging to a prominent person in the area on Tuesday morning and ordered the occupants, most of whom were prostitutes to leave.
The commercial sex workers and drug peddlers supposedly from Nigeria invaded the farming community of Wassa Manso to ply their trade.
The commercial sex workers, whose clients were mainly the 'galamsey' operators, according to sources, charged between GH¢20 and GH¢30 per sexual encounter, and GH¢120 for a full night spent with the client.
When DAILY GUIDE visited Wassa Manso community in the Mpohor District of the region earlier, the supposed commercial sex workers were seen roaming the community for 'business.'
It was also revealed that the illegal miners had occupied large portions of land in the community to ply their trade.
Some of the residents alleged that the 'galamsey' operators had erected sheds, popularly called ghettos and smoked suspected Indian hemp in the open.
The police raided the site after DAILY GUIDE made a report about the activities of some galamseyers at Wassa Manso.
The operation by the police, initiated by the head of the Mpohor District Security Committee (DISEC), who is also the District Chief Executive (DCE), Ignatius Asaa Mensah, led to the arrest of one illegal miner.
Several of the 'galamseyers,' who got wind of the law enforcers' intended action, took to their heels and left their equipment behind.
When the police got to the mining site, they reportedly destroyed the various machines, popularly called Chamfan, numbering about 20.
Other implements like shovels, buckets, containers and ore-bearing sand contained in sacks were taken to the police station as exhibits.
One of the illegal miners, Kwame Diaw, who could stand the destruction of his equipment, quickly came out from his hideout to beg the police not to burn his machines.
He was subsequently arrested.
According to him, that was the only work he could do, bragging that he had even employed about eight workers and pays them GH¢10.00 a day.
Asked whether he knew that the government had banned illegal mining activities, he answered in the affirmative and indicated that he had even decided to stop that business.
He is currently in the custody of the Mpohor district police.
The town committee chairman, Emmanuel Duaw, bemoaned the activities of galamseyers and the sex workers and stressed that if action was not taken immediately to curb the menace, the entire community would be adversely affected.
Gyaasehene of Wassa Manso, Nana Kojo Tandoh, indicated that the traditional authorities were aware of the illegal mining activities in the community and were working with the necessary authorities to get those involved arrested.
From Emmanuel Opoku, Takoradi