Menstrual Hygiene Education Among Girls Should Be Intensified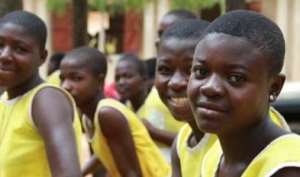 The Guidance and Counselling Practicum II, Group One, Sandwich Students of the Department of Psychology and Education University of Education Winneba (UEW) have called for the need to intensify the education on menstrual hygiene for young in schools.
To them, there was the need for these young girls to properly manage menstrual hygiene to avoid health complications and problems in girls, since positive menstrual hygiene management was important since it will help prevent several health challenges associated with poor menstrual hygiene management.
This was contained in a 21 paper presentation, presented by Mr. Bernard Peprah on behalf of his colleagues at a Guidance Seminar organized on the topic: Menstrual hygiene, effect on Girls of A.M.E. Zion (D) basic School in Winneba.
The programme was to sensitise the public and girls of the A.M.A Zion (D) basic school who were the target audience and seen as future mothers, wives and leaders of the country.
The event was used to also announce that May 28th each year has been set aside as World Menstrual Hygiene Day to promote sanitation and hygiene related to menstruation.
A UNESCO report estimated that one in ten girls in Sub-Saran Africa misses school during their menstrual cycle and in Ghana a study conducted by Sustainable Development Focus (SUDEF) a non-governmental organisation in 2016 revealed that 95 percent of girls, especially in the rural area in the country failed to attend school during their menstrual period.
Mr Peprah suggested that it was imperative for the local government authorities to publicise and support in the celebration of the World Menstrual Hygiene Day whilst the topic is discussed during PTA meetings.