Sodomy: Self Styled Pastor Tears 'Bottom' Of 12-Year-Old Boy Apart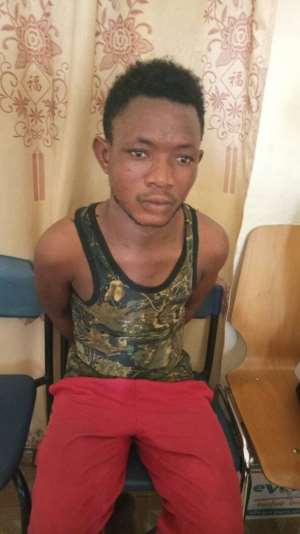 A man of God at Senya Breku, Kojo Taabaye, is in police grips at the Kasoa divisional police station for having anal sex with a primary 5 pupil in exchange for 50 Pesewas.
The grandmother of the victim Regina Esi Omano, narrating the incident said, the victim school authorities were demanding 5gh as PTA fee and the boy went to the man of God for help.
According to the boy, the pastor demanded to sleep with him before giving him the money.
The boy, who needed the money as a matter of urgency agreed and this act continued for some time.
Madam Esi Omano said, the pastor gave the victim 5gh and informed him to take 2ghc and return the 3ghc change to him but the boy refused.
After an hour the pastor followed the boy to the school premises demanding the change and that is where the truth of the matter came out.
Meanwhile, the victim says, the man has had sex with him several times but he can remember only four occasions.
He said on the first Day the man of God forced him and after the act, he pulled out a knife threatening to kill him should he inform his parents.
The Kasoa DOVVSU commander DSP Florence Annaman confirmed the news and said investigation the police is still investigating the matter.