The Church Is Corrupt Than The World--Prof. Antwi-Bosiako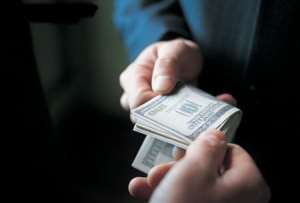 A professor of wood science at the Kwame Nkrumah University of Science and Technology (KNUST) , has stated that the church is quite corrupt than the world.
He said: "If we want any place where cover ups and favouratism is the order of the day, is it the church .
He has pilorised the church for prioritizing money over salvation ,urging that : "Let us eschew money and depend so much on salvation.
Commenting on infiltration of bad nuts into the church which stems out from monetisation of modern day Ghanaian Christianity , the vasity don, was of the view that culture of impunity is promoting corruption,because some people are wealthy and not Christains and during church harvest,such people are called upon to be chairmen at the expense of morally upright figures in the church.
Prof Charles Antwi-Bosiako noted: "It is better to allow the poor person with good character to be the chairman than somebody who is rich and not a Christians ,adding that the church should not confer honours on people with questionable wealth.
Instead he charged church leaders to reward true patriotism, hardwork, honesty, and probity and SYCOPHANCY.Boldness by Christian leaders to tell leaders the truth.
He bemoaned: "Those of us (Christians) who are made of light and salt have with a core duty of proclaiming that we are Christians, and are to propagate the message God , which is anti-corruption to the nook and cranny of the world, have lost the battle and our salts and lights are immaterial in the world.
According to him, corruption is quite scary,but in Ghana , we seem to be toying with the issue.Charles Antwi-Bosiako, who veered off from his speech intermittently, indicated that some Christians are so greedy, and when his or her colleague gets something , the person will use any means to also get there,which is not Christianity.
According to the academician , any church which cover up issues during mediation and the likes and not in a firm position in handling of issues will not go to heaven . If you find yourself in a corrupt church, the minister,church leader,choir master and likes are corrupt, the generality of the church risk being corrupt.
The KNUST lecturer , equated one of the cause of corruption in the Christendom as lack of morals among Christians ,which stems from the fact that, we do not adhere the word of God. Always there is no transparency in our dealings so there is always secrecy in our lifestyle which is "boamuade3" –something which is not meant for public.
Delivering his keynote address during the Christian Council meeting at the AME Zion church at Asafo in Kumasi, he charged Christians: "Sometimes all you see is fat cat which could be linked to murdering of people for money (cyber fraud), chairing church occasion with congregational prayers heaped at him ,but this very person does not have salvation.
The worried academician told the function : " Sometimes, these marginalised poor people have God-given direction in essence , they can use their knowledge to steer the spiritual direction of the church ,but because of money,the church will go for square peg for a round hole.
He accused the church for their inability to call people to order when they erred . Many are churches that the wealthy of a person is the criteria to be a church leader, and if you are not rich,you will never be allowed to become a church leader(s) .
He remembered the Christendom: " The Church is corrupt and we are going to account for everything that we do in the church because we are God's stewards. God will ask us everything that we do in the church.
Let us have spiritual endeavor of the person before he is given a task in the church.Lack of fear for the Lord,we are no longer afraid of God. Christians are threatening people with deity invocation which is at odd to Christianity doctrines.
Charles Antwi Bosiako indicated: "Corruption is rife in the church because most churches have allowed themselves with political parties. The congregation of some churches are either made of National Democratic Congress (NDC) or New Patriotic Party (NPP) or Peoples Progressive Party (PPP)
Underscoring the impact of the menace , Mr. Antwi-Bosiako explained to that corruption is a global issue and is of great concern in both industrial and developing countries worldwide. It is driven by many factors in corrupt-stricken countries and these include: 2 Timothy 3:1-5 "You must realize, however, that in the last days difficult times will come. People will be lovers of themselves, lovers of money, boastful, arrogant, abusive, disobedient to their parents, ungrateful, unholy, unfeeling, uncooperative, slanderous, degenerate, brutal, hateful of what is good, traitors, reckless, conceited, and lovers of pleasure rather than lovers of God. They will hold to an outward form of godliness but deny its power. Stay away from such people".
He outlined the strong motivation to earn more income as : Poverty and Low salaries (wages) Bad government,Culture of impurity,Low press freedom,Low economic freedom,Large government size,Gender inequality,Low levels of government decentralization
The KNUST lecturer indicated that weak legislative and judicial system aid corruption . When weak, the laws pertaining to corruption are not adhered to. This leads to an increase in corruption, since culprits are not prosecuted for it deeds.
He said: Greed and moral cause: 2 Peter 2:3 "And in their greed they will exploit you with false words. Their condemnation from long ago is not idle, and their destruction is not asleep". Many engage in corruptible activities out of greed. The earnest desire to earn more than what is expected. Individuals tend to get more resources and money when they see their colleagues flourishing than them. Acceptance of corruption as a norm by the populace: They see it as an order of the day. Meaning, you have to give something in order to get what you want.
Mr. Charles continued that lack of moral criteria in promotions ("Partyism and Cronyism"/ whom you know/ whose Party is in power): This normally occurs as a result of individual being loyal to whoever is in charge or those in control of the party or organization. Individuals are promoted to higher offices just because their party is in power and they are loyal to that particular party or some individuals in the party (whom you know syndrome).
"Downplaying or reacting mildly to corruption charges: Little power of decisions with organizations to penalize acts of corruption to set examples creates an environment conducive to perpetuating corruption",he ststed.
Mr. Charles explained further that lack of transparency, especially at the institutional level, but also in less formal organizations. (In marriage and family).Cultural environment that condones corruption.Lack or no sense of service when working in public or private institutions: This is prevalent in those who use politics for their selfish interests instead of serving the common good through politics.
On the impacts of corruption , he explained that corruption reduces economic growth:A country's growth is retarded when corruption is high. Resources meant for development will end up in individuals pocket instead of using it for the project it is meant for. Greater inequality and high incidence of poverty:Some deserving individuals will be deprived of funds and resources when they are not able to pay (bribe) to the one in charge.
He added : "Reducing the efficiency of aid (most especially foreign aid): Foreign agencies and individuals retreat their aid to a particular country or organization when corruption is high. This slows down the developmental project which needed foreign aid in order to complete. Exposing the country to currency crises: The value of a country's currency depreciates. This however leads to an increase in inflation. Lack of proper or obstruction of justice: Corruption in the judicial system leads to improper justice and victims of offense suffer. A crime's evidence may be erased or investigation that requires little time frame may be prolonged due to corruption in the system.
He emphasised : "The ware fare of our nation lies in the heart and hands of all. All Christian leaders should join the crusade (by joining the Government and other leaders) to fight it. Community organizers, film makers, poets, philosophers, pastor and church leaders, pensioners and those fighting for the rights of the disadvantaged.
The academician cum religious leader bellicose into the microphone : "Fighting corruption is everyone's responsibility: The ware fare of our nation lies in the heart and hands of all. All Christian leaders should join the crusade (by joining the Government and other leaders) to fight it. Community organizers, film makers, poets, philosophers, pastor and church leaders, pensioners and those fighting for the rights of the disadvantaged.We need to purge ourselves of our own corruption, repent of the evils of the past and lead the life of truth, purity, transparency and accountability in our individual and corporate lives and in our churches and institutions.
In this regard, Antwi-Bosiako noted that then we have the moral authority to teach our adherents the much needed lessons in a life of integrity. "Nemo dat quod non havet" (no one can give to others what he himself does not have). "Leviticus 19:2 Be Holy for I am the LORD, I am Holy".
He the Christendom: "Christian leaders should denounce corruption and be preachers/activists and not the culprits: Teaching on the essence of living a corrupt-free life and not be practitioners of corruption. Christians should be anti-corruption campaigners everywhere they go and help against it rather than being the perpetuators. The church should not make room for crooks and fraudsters, bribe donors and recipients, liars and cheaters, ill-gotten wealth people to manipulate political and other processes. Examples: David and Nathan/Bershebba, Saul and his war booty, Akan and gold looting.
He said pastors should themselves be practitioners of what they preach and hear from the pulpit. James 1:22 "we should not be hearers of the word but doers". Living an exemplary life is essential. That is, not living according to the dictates of this world but rather a life centered on Christ. The life of the early Christians was likened to that of Christ when they were in Antioch and thereby were given the name Christians (Acts 11:26). Paul's letter to the Philippians admonished them to pattern their life after His and learn from those who follow their examples (Philippians 3:17).