Social Media Reacts To State Of The Nation Address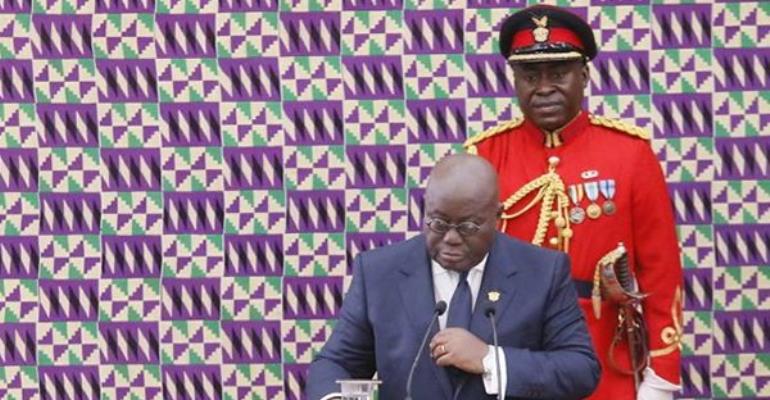 Social media has been busy with comments and reactions to President Nana Addo Dankwa Akufo-Addo's second State of the Nation address.
The President performed his constitutional duty dictated by Article 67 of the 1992 Constitution to give an account of the state of the country on Thursday, February 8.
The address to parliament highlighted key achievements by his government since he assumed office on January 7, 2017.
Below are some social media reactions to the address:
God help u achieve ur aim Mr President. @patriotaddae #SONA2018 — ANAMAN (@AnamanEKAN) February 8, 2018
#SONA2018 am impressed honestly ☺.. — #KillTheLp (@Macleanakoto5) February 8, 2018
Ecobank Ghana Ltd has offered to engage all 3,000 young people, after the training programme. #SONA2018 — StatsGH (@statsgh) February 8, 2018
State of Promises address , nothing has changed and all they say is free shs and allowances . Pathetic ðŸ˜' #SONA2018 pic.twitter.com/xH7RaYLq3c — luciousputin (@putinspeaks) February 8, 2018
Mr President, we have listened to your State Of the Promises Address - Hon. Haruna Iddrisu. #SONA2018 — AfariGyan•De Cartel (@itzkwabenaPOWDA) February 8, 2018
#SONA2018 pic.twitter.com/UsxHHP2HFB — FRANCIS ATULE (@atule_francis) February 8, 2018
My take on the #SONA2018 ?
Wait let me read the document again people.... — Godfred Kwame Kankam (@gkkankam) February 8, 2018
The Ghana Stock Exchange Composite Index has gained 19% since the start of the year. A sign of greater things to come for the Stock Exchange. #Sona2018 pic.twitter.com/obwCWIjejZ — Champ♛ (@SwaggaOwens) February 8, 2018
Is really interesting how when ppl are in opposition they suddenly the plight of citizens #JoySMS #CitiCBS #SONA2018 — Acheampong (@MichaelZibit23) February 8, 2018
I am a proud Ghanaian and confidently i have confidence in @NAkufoAddo . We thank you for the good work and the stability in the country. #Sona2018 🇬🇭🇬🇭 — Kwame Ashigbe (@kwameashigbe) February 8, 2018
We missed u at the #SONA2018 @MrsMahama — Nana Kwame (@Chiefmojojojo) February 8, 2018
One thing I know for sure is that @NAkufoAddo and his govt inherited a broke Ghana, one main reason we are still feeling the hardship. But let's have faith in NADAA that he will turn things around like he has began. #SONA2018 — Mr. Brainy 🤓⭐️🇬🇭 (@KwameMcJoseph) February 8, 2018
A staggering amount of 5.4billion cedis has been identified as constituting fictitious deals #SONA2018 Awurade yedase — #GHBudget2018 (@NobleQuansah) February 8, 2018
Did the President talk about the astronomical fuel prices? #SoNA2018 — liverpool king (@swanzy_g) February 8, 2018
Am hoping the tier 2 pension brouhaha is resolved so i can get ma oldgirl's pension package!
That's ma long awaited capital for my rabbit business! @NAkufoAddo #SONA2018 — AB🌽LE (@tagoe77) February 8, 2018
We don't know the exact number of people who are unemployed, the number of jobs created and the number of people retired😥 are we serious? #SONA2018 — Maldives Flex🔥 (@oj_tha_prodigy) February 8, 2018
No matter how long a log stays under water it will never become a crocodile😂😂😂😂 #SONA2018 — Nana Kwabena (@NanaKwa17173462) February 8, 2018
Don't take all the credit @JDMahama Did 90%..I think u did the other 10% #SONA2018 https://t.co/zLZb32iTWP — kingofTrends (@iam_selassie) February 8, 2018
Crime wears no political colours😂😂 #SONA2018 — Nana Kwabena (@NanaKwa17173462) February 8, 2018
State of nation's address was a repeat of 2017's address, just that the MP's changed their clothes 😂 #SONA2018 #comicCommentaryOfSONA2018 — WARISDAT 🇬🇭➕🔥🔥 (@ComedianWaris) February 8, 2018
Ghanaian mps are just so hilarious. The closing speech of the minority leader killed me 😂😂. #SONA2018 — Edem (@Im_edem) February 8, 2018
#ShotsFired paw paw paw paw paw #SHADE eeei Nana Addo Dankwa Akufo-Addo u like your skin matter oh #SONA2018 https://t.co/454whtjfV3 — Kwabena POKU (@KwabenaPoku) February 8, 2018
The presidents suit is tighter than Chelsea's defence 😂😂 #SoNA2018 #comicCommentaryOfSONA2018 — WARISDAT 🇬🇭➕🔥🔥 (@ComedianWaris) February 8, 2018
I agree that agriculture can turn the fortunes of the youth around. But the support isn't there. I've never seen any agric extension officer in my farm. With the agric office miles away, how do I get support? #SONA2018 #plantingforfoodandjobs @LegacyCrop — Edwin Elorm Apedo (@edlorm) February 8, 2018
I wish to believe our Prez intentionally left the issue of security out of the #SONA2018 to de-politicize an issue which our security agencies are very capable in handling. — Kojo Divine (@1dikad) February 8, 2018
Mr President, the fuel prices. #SONA2018 — Josh Oheneba (@Joeychel) February 8, 2018