Effutu Undertakes Demolition Exercise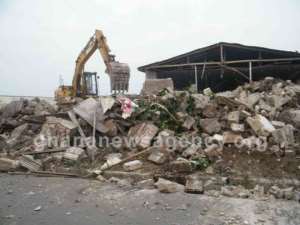 Mr. John B. Ninson, Effutu Municipal Chief Executive (MCE) has cautioned landlords with dilapidated structures to remove them to avert calamities.
The Assembly, he said would be compelled to pull down such structures and surcharge their owners if they failed to do so.
Mr Ninson, who was speaking in an interview with the Media after the assembly had demolished a death trap story building on the road leading to the Municipal government Hospital in Winneba township said the building was constructed in 1920.
According to the MCE, before the exercise, the assembly had an engagement with Dr. Ayirebi Acquah former Central Regional Minister and Spokesperson for the Acquah family in Winneba, owners of the building.
He said the assembly would also remove all buildings on earmarked roads and government lands and surcharge the owners of such structures with the cost involved as well.
'The Assembly will deal drastically with persons who have encroached on government lands to serve as deterrent to others and that regard such encroachers need to advise themselves before it is too late,' he added.
The steps he said were aimed at creating an enabling environment for people to live in the municipality devoid of disasters.
Later in an interview with the Ghana News Agency, Dr Ayirebi Acquah he said they had over the years been trying to demolish the said building themselves but failed and on behalf of his family commended the Assembly this time round for the bold step they took to demolish their aged building.
He assured that, his family would strictly comply with the arrangements made between them and assembly that led to the demolition of the building.