Should The Use Of Excavators Not Be Banned In The Small And Medium-Scale Gold Mining Sectors?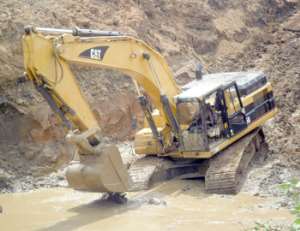 If it is true that the chairperson of Parliament's select committee on lands and natural resources, Hon. Francis Manu-Adabor, has assured small-scale gold miners that they will soon be allowed to return to work, then that is most unfortunate.
The question is: What sensible nation on this planet, on the basis that those causing untold harm to the natural environment and putting the well-being of present and future generations of our people at risk, also need to earn a living, will allow so-called small-scale gold miners deploying 32-tonne excavators to return to work again - when transparent vetting of how they obtained their permits and licenses will doubtless reveal that virtually all registered small-scale gold mining companies in Ghana used bribery and corruption to secure their concessions, permits and licenses to mine? That must not be allowed to happen - and it will not happen any time soon. Full stop.
Armed robbery is lucrative work for some criminally-minded people in Ghana, but society rightly endorses the state's coercive powers being unleashed on them when they attack people, and approves when the law courts jail them to serve long prison sentences with hard labour for their savagery and mindless acts of terrorism.
Gold miners in Ghana have literally been committing biodiversity-genocide by stealth for decades - laying to waste vast swathes of the Ghanaian countryside and destroying our nation's natural heritage: poisoning soils; streams; rivers and other water bodies including ground water sources making up the water-table in the process, with impunity.
Ditto bear responsibility for the destruction of sensitive ecosystems protecting Mother Nature's priceless biodiversity across the entire landmass of the Republic of Ghana. How dare this privileged person, Hon. Francis Manu-Adabor, speak on behalf of those responsible for such crimes against humankind whose selfishness and greed for wealth knows no bounds?
Our vampire-elites - particularly those of them elected to Parliament to seek and protect our nation's best interests and promote the well-being of ordinary people throughout Ghana but a majority of whom are in the very deep pockets of the vested interests bleeding Mother Ghana dry - must be very careful. Ghanaians are not fools - and millions of them are now fed up with such revolting elite-hypocrisy.
There will definitely be hell to pay if bribery and corruption rear their very ugly heads again during the vetting process by the ministry of lands and natural resources to verify how all Ghana's small-scale gold mining companies obtained their concessions, permits and licenses to mine gold in this country. In any case, if virtually all the gold from the small-scale sector is being smuggled out of Ghana, without the nation being able to tax those involved in this unlawful export trade, are we not better off leaving the gold in the ground?
As a first step to ensuring that the remainder of our nation's natural heritage is protected from greedy gold miners, let us ban the use of excavators by all the players in the small and medium-scale gold mining sectors, in Ghana's national economy. Full stop. Haaba. We rest our case.