Reliable Information Needed For Creation Of New Regions - Justice Brobbey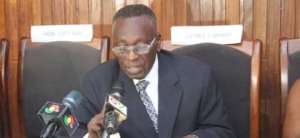 Justice Stephen Allan Brobbey, the Chairman of the Commission of Inquiry looking into petitions for the proposed creation of new regions on Monday said the Commission requires reliable information from traditional authorities to facilitate the constitutional processes.
As the embodiment of the people and custodian of tradition, Justice Brobbey, who is a retired Supreme Court Judge, said the views of chiefs and queens were highly welcomed and would be considered in its recommendations to the President, Nana Addo Dankwa Akufo-Addo.
Justice Brobbey made the statement when the nine-member Commission interacted with members of the Brong-Ahafo Region House of Chiefs at a meeting in Sunyani.
The meeting offered an opportunity for the Commission and the House to deliberate on the import of petitions by the Council of Ahafo Chiefs and the Coalition of the Bono East Chiefs, spearheading the proposed creation of the two additional regions out of Brong-Ahafo.
Justice Brobbey said though the Commission had already held consultations with the petitioners, there was the need for it to also seek the views of the House on whether the creation of the new regions were necessary and demand-driven.
He observed that it was the first time that the provisions of Article five of the 1992 constitution on the creation or alteration of a region had been invoked adding that it was therefore a duty on all the traditional authorities to chart a course that was ultimately in the best interest of the people.
Mr Dan Botwe, the Minister of Regional Re-organisation and Development advised the traditional rulers to intensify campaign and education on the constitutional processes involved in the creation of the new regions.
He said the creation of the region was being done through constitutional requirement and urged the Chiefs to encourage their people to participate in the referendum to be able to obtain the constitutionally required voter turnout.
Mr Botwe who is the Member of Parliament for Okere, advised the traditional authorities to bury their political differences and support the exercise in the supreme interest of the nation.
Pemampem Yaw Kabrese V, the President of the Brong-Ahafo Regional House of Chiefs said the proposed creation of the new regions was a laudable idea that would facilitate development and bring immense benefits to the people.
To create congenial atmosphere for the chiefs and queens to feel free to give information, the Commission held a closed-door meeting with the House.
Meanwhile, the Commission will hold public hearings on the creation of the regions at Goaso, Sankore, Hwidiem and Bechem, major towns in the Ahafo area and Kajaji, Yeji, Atebubu, Nkoranza and Techman in the Bono East.
GNA
By Dennis Peprah, GNA