S.Africa's Ramaphosa vows 'speedy' decision on Zuma's fate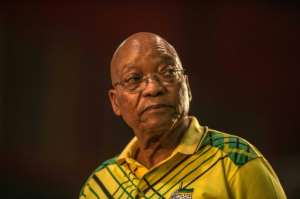 South Africa's deputy president Cyril Ramaphosa on Wednesday vowed a "speedy resolution" to talks on the future of embattled leader Jacob Zuma, expected to step down after mounting political turmoil.
President Zuma is under growing pressure to quit in favour of Ramaphosa, his deputy and African National Congress (ANC) party leader, with local media suggesting an exit deal is being hammered out.
Ramaphosa said that postponing a meeting on Wednesday of top ANC officials would "enable President Zuma and myself to conclude our discussions... in the coming days".
The presidency released pictures of the two men sitting together and smiling at a cabinet committee meeting in Cape Town.
"The discussions were constructive and lay the basis for a speedy resolution of the matter in the interests of the country and the people," Ramaphosa said.
The announcement that the ANC's national executive, which has the power to recall Zuma, would not meet as scheduled on Wednesday followed the dramatic cancellation of a key parliament speech by the president.
Showpiece speech delayed
Zuma had been due to deliver the State of the Nation address on Thursday -- the centrepiece of the political calendar that sets the government's priorities for the year ahead.
The president asked to postpone it, apparently fearing his continuing hold on the presidency would enrage some of his own ANC lawmakers as well as opposition parties.
The delay heightened speculation that Zuma could finally yield to calls to step down.
Many ANC members are pushing for Cyril Ramaphosa, the new head of the party since December, to replace Zuma, 75, as president immediately.
But Zuma loyalists have said that the serving president should complete his second and final term in office, which would end when elections are held next year.
The Business Day newspaper said in its editorial that postponement of the presidential speech showed "the resolve that now exists in the ANC to remove Zuma and install Cyril Ramaphosa in his place".
Parliament speaker Baleka Mbete said that the address had been delayed because there was "little likelihood" that it would be held without disruption.
In previous years, opposition lawmakers have shouted Zuma down and been ejected from parliament by security guards in chaotic scenes.
Independent political analyst Ralph Mathekga told AFP that Zuma's departure had been mishandled by the ANC.
"Unfortunately the reality caught up with them, so now the ANC is trying to take control," he said.
"The fact that they cancelled Wednesday's ANC meeting probably means there is an agreement for him to go."
Zuma's legal troubles
The power struggle has rocked the ANC, the renowned liberation movement that led the fight against white-minority rule but has since lost much public support.
Despite the attacks on him, Zuma still enjoys some backing within the party, particularly among rural members and within his own Zulu community.
His presidency has been dominated by an economic slowdown, record unemployment and allegations of corruption.
He faces several court cases, including action relating to 783 payments he received allegedly linked to an arms deal before he came to power in 2009.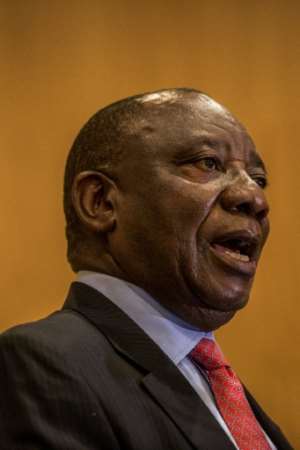 Ramaphosa's long and eventful career has taken him from trade union activist to multi-millionaire and now to within touching distance of the South African presidency
Many graft allegations against him have centred on the wealthy Gupta family, who are accused of unfairly obtaining lucrative government contracts and even being able to choose ministerial appointments.
The local rand currency, which has been the world's best performing unit since Ramaphosa's election as ANC chief on December 18, was down on the day 0.2 percent against the dollar at 11.95.
The Nelson Mandela Foundation, which promotes the legacy of South Africa's anti-apartheid icon, has called for Zuma to go as he had "demonstrated that he is not fit to govern".
Ramaphosa, 65, is a former trade unionist who led talks to end apartheid rule in the early 1990s and then became a multi-millionaire businessman before returning to politics.