Ghana to apply for Air Operators Certification (AOC)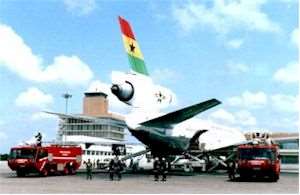 Accra, Aug. 4, GNA - Management of Ghana Civil Aviation Authority (GCAA) on Wednesday said Ghana International Airlines (GIA) is yet to apply for an Air Operators Certification (AOC) to enable it to begin operations. He said AOC is part of the International Civil Aviation Organizations (ICAO) requirement that an airline needs to satisfy before it can even start selling tickets, let alone fly.
An official of GCAA told the GNA that for an airline to qualify for that operational certificate, it must have gone through series of certification, which would take about three months or more to complete, depending on the readiness of that airline. He said the certification process, which is carried out by GCAA, include the airworthiness of the aircraft to be used, airlines crew licence offices, as well as its management personnel.
According to the official, an operator going through a certification process without an aircraft could approach GCAA, who could give the airline an operators permit to wit lease an aircraft from another certified operator to start its operation. "Even if GIA wants to code share with another existing airline, GCAA must ensure that the existing airlines must have satisfied all ICAO requirements". He said at a meeting with officials of GIA this afternoon, it came to light that GIA has never sold a single ticket to any passenger as being reported in the media. "GIA could therefore, not have started operations as reported in the Media".