Anyaa: M/A Basic School Seeking Support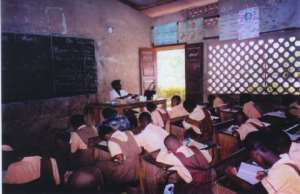 Mrs Juliana Opokua Dapaah, the Head teacher of Anyaa M/A '1' Basic School in the Ga Central Municipality has appealed to philanthropists and corporate organisations to support the school.
She appealed for ceiling fans, tables and chairs for teachers and pupils as well as the construction of a fence wall around the school.
Mrs Dapaah, who made the appeal during a Parent-Teacher Association (PTA) meeting last Friday, said the school building also need to be rehabilitated.
She said although the members of the PTA had made efforts in improving the conditions of the school, it needed the assistance of other corporate organisations to uplift its image and boost the morale of teachers and students.
She advised parents to ensure that children did their homework, instead of watching television, since that affects their performance in examination.
The Head teacher encouraged parents to pay regular visits to the school and interact with teachers on their children's academic performance and also to discipline their wards.
Mrs Dapaah urged the parents to ensure that their children are properly dressed before leaving for school, adding that, 'this speaks well of parents as their children appear neat in public.'
The parents were unanimous in the decision to repeat students in 'Form 3' with poor academic performance.
The parents also agreed that though canning in schools had been banned, the school authorities should not hesitate to discipline pupils, who would go wayward.