Danish Group Ends Exchange Programme At Dalun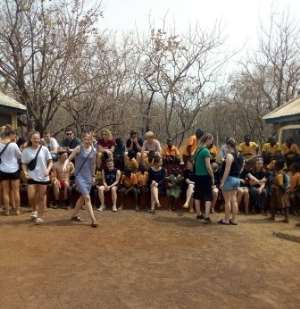 A group of Danish pupils numbering 180 and their teachers have ended a week-long cultural exchange programme at Dalun in the Kumbungu District of the Northern Region.
The cultural exchange programme, which is an annual initiative of the Youth Empowerment for Life (YEfL), a Tamale-based non-governmental organisation, and the Ghana Friendship of Denmark, is aimed at affording young people the opportunity to learn and share various cultural perspectives.
This year's programme, which was the third in the series, saw the participating Danish pupils, who were drawn from Hald Ege Boarding School in Denmark interact with pupils of Simli Model Junior High School at Dalun.
As part of the programme, a youth exchange rally was organised for the pupils to exhibit their talents in sports, games, dance, arts and film making.
Mr Abdul Ganiyu Alhassan, Technical Advisor on Advocacy, Youth and Gender at YEfL, who spoke to the GNA during the youth rally at Dalun over the weekend, said 'it is important that young people understand the diverse nature of the world', hence, the programme.
Mr Ganiyu Alhassan described the programme as useful as it helped participants to establish relationships to begin to socialise and network to learn about their countries.
He said the programme would also inculcate the habit of development work in the pupils such that they would be committed to working and contributing to ensure a better society for all.
Mr Erik Junker, Principal of Hald Ege Boarding School, said the programme was good for the Danish pupils because 'we do not want to be tourists just to watch some things, we want to get involved with the people and talk to them' and that was what the programme was about.
Mr Junker said 'we are happy that the children mingle and share ideas as they undertake the various activities,' which would help build networks amongst them for possible future collaborations.