'Suicide Not The Answer' Launched In Wa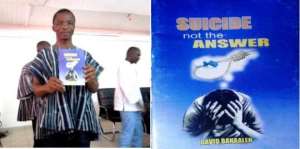 A book titled 'Suicide not the Answer' has been launched to demystify suicide and throw more light into mitigating its impact on humanity.
The author of the 59-page book, Mr David Banaaleh, who is a professional teacher and a social commentator, described the book as life-supporting manuscript that examines suicide as a social canker with heavy toll on humanity.
The author's educational experience has been described as miraculous as he defied all odds to have his formal education through "night schooling".
The book, seeks to unravel the mysteries of suicide by first throwing more illumination on the long held secrecy surrounding it.
It contains diverse perspectives on suicide and demonstrates how suicidal thoughts could be identified and managed.
It emphasises the need for responsible media reportage on the menace of suicides and looks at legislation in various jurisdictions.
Mr Banaaleh, who launched the book in Wa in the Upper West Region, registered his displeasure against poor attendance of invited guests to the launch of the masterpiece.
He expressed worry about the way, the media reports on suicide cases is not the best, saying, the description and the methodology that people use to commit suicide teaches other people how to commit suicide," Mr Banaaleh stated.
He said research showed that over 80 per cent of people who committed suicide told others about their intention.
He also called on law makers to take a second look at the law criminalising suicide in the country.
"In some countries, it is a criminal offense to do that but in Ghana, the law is only criminalising suicide without thinking of ways that can prevent suicide', he added.
The first copy of the book was sold at GHc300.