Perez Chapel Gives Valentine A New Face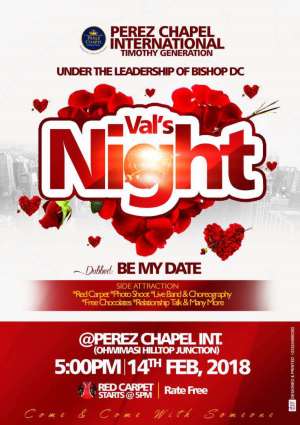 Christians will experience new dimension to participate in the awaiting lovers day, 14th February 2018 at 5pm prompt.
The Valentine day, which is scheduled to celebrates lovers has been program to bring together the Christians youth by the Perez chapel international regional headquarters in Kumasi, KWADASO Ohwimase.
The program dubbed: "Be My Date" is aimed at engaging christians believers on the day and also propagating Gods love to all people.
Activities to be program includes, red carpet, love talks, marriage talk, choreography, live bands, meeting a date among others.
Invited quest and friends will be exposed to teachings on the love of Jesus Christ to their lives.
The program, organized under the auspices of the regional overseer, Bishop D.C Ayarewaba will enable the youth understand how they can use such occasion to strengthen themselves spiritually than satisfying their lust for evil.
Valentine is widely known as lovers day where people show their love to their partners by means of exchanging gifts among others.
The mode of celebration has become questionable because of the way people celebrate it by promoting formication and other social vices.
These has raised questions as to whether Christians should take parts in this celebration. Though the question still remains debatable, the church believes it can be rectified to achieve Christ purpose.
Speaking in an interview , Bishop D.C Ayarewaba, indicated that the occasion will help inculcate Gods love into the youth.
According to him, Christ is a prime lover, who laid His live to save mankind to usher them to eternity.
He said people especially most youth are following and securing other counterfeit love from the world because Christ love seems to be silenced in the christian arena.
Bishop D.C hinted that the church is ready to bring transformational dimension to the celebrations of the lovers day drive Christ seeking agender for kingdom purposes.
He advised all other Pastors and overseers to enumerates such to aid the kingdom of God.
He again advised the youth to draw closer to God to enable them tap into His abandance Grace, peace and Gods kind of love he showed to the world.