Heads Rolling At Ghana Institute Of Journalism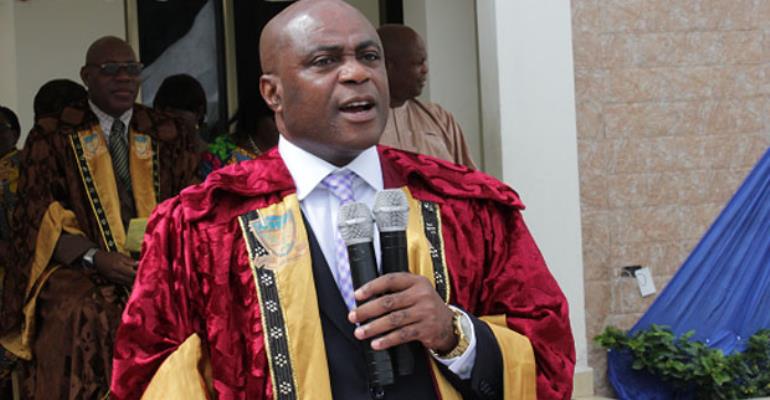 The Governing Council of the Ghana Institute Of Journalism (GIJ) has ordered the Rector of the school, Dr. Wilberforce Sefakor Dzisah to take his 2018 annual leave 'as investigations into the operations of the institute continue.'
This was contained in a press release issued by the Council after an emergency meeting held on Wednesday, January 31, 2018 and signed by its chairman, Prof Kwasi Ansu-Kyeremeh.
The Rector has been on leave since last year. The Acting Vice-Rector, Dr. Ebo Afful, according to the release, reverts to teaching full-time as he is relieved of his responsibilities as Acting Vice-Rector.
The Registrar, Mr. Perry P. K. Ofosu takes his annual leave for 2018 according to the release which adds that Dr. Modestus Fosu has been appointed Acting Rector, Dr. Collins Adu-Bempah Brobbey and Mrs. Patience Sowah Registry.
The changes, the Council states, are with immediate effect.
The rector on the long leave denied somewhat that an investigation was going on about the operation of the GIJ when DAILY GUIDE reported the story earlier.
A letter sighted by the DAILY GUIDE at the time suggested that the rector's leave was because of an investigation into the "facts of academic integrity and procurement concerns that have been raised regarding the institute's operations."
The letter signed by Professor Kwasi Ansu- Kyeremeh listed Ms. Ajoa Yeboah-Afari, Dr. Margaret Amoakohene, Mr. Edwin Amankwah and Ms. Joyce Mensah (non-voting legal facilitator) as the five-member committee's membership and it was being done in accordance with the GIJ Act 2006 (Act 717) (9) and the Statutes, GIJ, July 2009 (3.0).
It said "the committee began its work with a meeting on Monday, December 19, 2017 at which it elected Dr. Amoakohene as its chair and Mr. Edwin Amankwah as it secretary."
"Being investigated are matters arising out of, and as summarised in, petitions submitted to the Council Chairperson; complaints raised during meetings with the Executive Management Board, Senior Members, Senior and Junior Staff and the SRC; as well as the Chairperson's observations on prevailing decision making and implementation procedures."
The letter further said "the investigation is to focus on: a) Academic Integrity, b) Procurement practices, c) Any other matters arising out of the investigation," adding "the committee is also to come up with proposals to rectify any shortcomings that may be detected to enhance the institute's operations."
The council sought "the cooperation of all within the GIJ community to ensure a successful investigation," adding "the Rector of the institute is on leave to facilitate a smooth investigation. The Acting Vice Rector will act as Rector in his absence."
The story elicited an angry response from Dr. Dzisah who said the story was false and that he was only on leave and would resume in February. Now that he is being asked to continue his entitled 2018 annual leave, he might have a ready response to parry negative implication of the forced leave.