Exorbitant Fees Charged By Medical Centres Big Setback In Prosecuting Domestic Violence Cases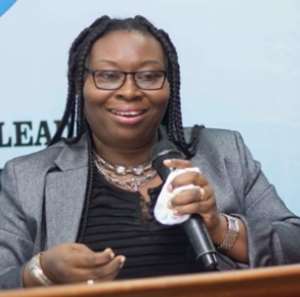 Mrs Angela Dwamena-Aboagye, Executive Director, Ark Foundation, has said that, charging of exorbitant fees by medical practitioners for signing medical forms of victims has been a major hindrance to the prosecuting of domestic violence cases.
She said the provision in the domestic violence act that talks about free medical care, is not being enforced in a way that would help the case of victims, because the hospitals are charging too much.
'Legally they are required to charge for signing the medical forms but it's a very old regulation, and now the doctors are using their own discretion to charge all kinds of fees, and because of that the victims cannot go to the hospital or go back for the medical forms because they cannot pay.'
Mrs Dwamena-Aboagye made this observation, at a workshop organised for crime officers and media practitioners on domestic and gender based violence.
The workshop was on the theme 'domestic violence act and domestic violence regulations - issues and challenges'.
She said signing of victims' medical report forms a major part of the docket that is being built for prosecution and without it; it is difficult to carry out investigations.
She has called on the ministries of Health, Interior and Gender to take the matter up and ensure that it's either brought under the National Health Insurance Scheme or find a way of compensating the doctors for signing those reports, otherwise many of the cases on domestic violence and gender based violence would be thrown out of court.
Mrs Dwamena-Aboagye said the domestic violence act, and the criminal offenses act has provisions that deals with sexual and gender base violence as well as certain acts of domestic violence
She said there was more than enough legislation in this country to take care of domestic violence and gender base violence, but the major problem has always been about implementation.
'Most often the police are not very well equipped to handle these cases, but as for the laws there are no problems with it. She said.
'We also have a policy called the national policy and plan of action for implementing the domestic violence act, that is supposed to have span for over ten years but none of these things have been really implemented to any appreciable degree.'
She also noted that under the domestic violent act, there is a way in which services must be coordinated in the country, so the police, social welfare, the hospital, medical personnel, and other NGO's that provide such services need to be coordinated so that they can handle one specific case that has several aspects in a way that helps the victim and the family.
Dr Robert Mensah, Reproductive Health Specialist, United Nations Population Fund (UNFPA), said sexual health is a state of complete physical, mental and social wellbeing related to sexuality, and not merely the absence of dysfunction, disease or infirmity in all matters.
He said sexual and reproductive health is not solely a health issue but a matter of social justice and human right, producing many tangible benefits such as combating poverty, and promoting economic growth and contributing to gender equality, social equation and democratic governance.
Dr Mensah said sexual health is fundamental to the physical and emotional health and wellbeing of individuals and families and to the social and economic development of communities and countries.
'Sexual health when viewed affirmatively encompasses the rights of all persons to have the knowledge and opportunity to pursue a safe and threat free sexual life. And all must have the right to quality affordable reproductive health care regardless of sex, creed, colour, marital status or location.'
'The rights include contraceptive information, counselling and other services, postnatal and delivery services, health care for infants, prevention and treatment of sexually transmitted diseases, safe abortion services, prevention and treatment of infertility and emergency services.'
Dr Mensah noted that, to overcome these, there is the need for a clear legal protection, education, awareness creation, attitudinal change, community support and the willingness to allow the law to take its course.
He urged the police officers to deal with domestic violence cases to the end, saying they have a role to play when victims come to them with problems of sexual violence.
DCOP Maame Yaa Tewaa Addo-Danquah, Director, General, Criminal Investigations Department said the workshop was aimed at taking crime officers through the act and the regulation, so that they would be sensitized enough to know what is expected of them.
She said domestic and gender based violence cases are very sensitive and most of the issues were family related, and had to handled well.
According to her, victims of such crimes sometimes get so afraid and traumatised and need to be handled with care.
'But when you receive them, you have to assure them that they need justice, this will encourage others who have also been victims of such crimes to report to the police.'
Mrs Addo-Danquah noted that it was the first of its kind, and it is also for media practitioners to also learn and appreciate the work of the police.
'Understanding the sensitive nature of domestic violence cases is important.Such workshops would be organised, periodically to help improve upon the service delivery of police officers.'
GNA
By Hafsa Obeng, GNA