Castle run like "Odikro's mud palace"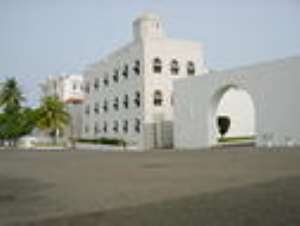 ....Fire The Minister For Prez Affairs Mr. Gabby Otchere-Darko, Editor-In-Chief of The Statesman, a newspaper with links to the ruling New Patriotic Party (NPP), has called for the dismissal of the Minister for Presidential Affairs, Mr. Kwadwo Mpiani.
In a page 6 article headed: "If I were Kufuor's Strategist and dated July 25, 2005, Gabby writes that "Kwadwo Mpiani would have been the first to go.
As an astute politician as he is with an economist brain, he would remain a Cabinet Minister, but far removed from the Castle. What is required in this NPP's term in office is not loyalty and competence alone. Almost every observer close to the Castle says the place is run like an Odikro's mud palace.
"Could they all be wrong? There are several ministerial portfolios that the chief of staff can fit in well. "If not, dispatch him to Beijing or Washington, and let who can deliver take charge. There is not discernible policy direction from the top. "The top is weak and every minister appears to be doing his or her own thing."
Gabby Otchere-Darko is fast gaining notoriety for speaking his mind bluntly. Over the last couple of months, Gabby has gained tremendous credibility as a journalist who refuses to sing the praises of his colleagues in the ruling party. It is not clear how the Castle may react to Gabby's vituperations.