Hotel Kufuor: Gizelle to co-operate with CHRAJ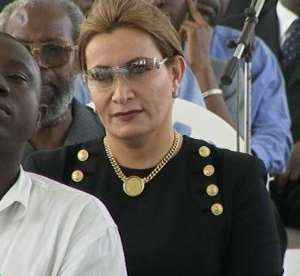 The Iraqi-American former presidential advisor to President Kufuor has made a strong turn around and now welcomes a Commission on Human Rights and Administrative Justice's investigation into the Hotel Kufuor transaction.
Gizelle Yajzi has offered to cooperate with CHRAJ after initially labeling the commission has bogus.
In an interview on an Accra-based radio station, Ms. Yajzi requested CHRAJ to buy her a British Airways return ticket to enable her to fly from her Florida base to testify.
She also appealed to CHRAJ to offer her security so her life is not endangered, and to pay for her hotel accommodation at La Palm Royal.
Asked why she was making her request on air instead of writing officially to the commission, Ms. Yajzi said CHRAJ's acting Commissioner's invitation to her was also made on air.
She denied that she was a star witness in a case for the opposition NDC saying: "I am a very important witness in the case but I am not a star witness for NDC or NPP", and expressed the hope that she would be handled professionally by CHRAJ when she arrives.
Ms. Gizelle Yajzi claims she was engaged by President Kufuor to negotiate the purchase of a hotel complex near his residence.
The hotel complex, now known as "Hotel Kufuor", has become the centre of controversy with the opposition NDC MPs pushing for a motion to empower parliament to investigate the transaction.
Government spokespersons have denied the President's involvement in the deal.
Recently, a TV Africa crew was arrested and briefly detained in the President's private residence for filming the Hotel.