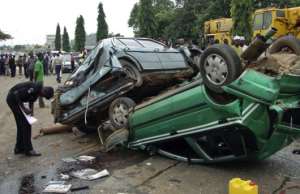 One of the deadly issues we are facing today is road accidents; the issue of accident is killing people more than we can imagine. It is very sad that people are becoming orphans through gory accidents, people are losing their valuable assets through accidents. We all know accidents are often not deliberately or intentionally caused and are inevitable, no two ways about that. Road accidents have been defined as an unplanned, unforeseen and unexpected event that has a negative impact on all activities of the individual(s) concerned. As we all believe accidents happen unintentional, but let's not also forget about the indirect intentional accidents that also happens.
Yes of course there are inevitable accidents that happen which nobody has control over. Simply put, something bound to happen by nature. In my opinion, what I do believe is that, most of these road accidents are due to what i choose to call "unpardonable negligence" Mostly, things that cause these accidents include ; Human factors like unsafe acts (reckless overtaking ,over-speeding,disrespect for road traffic rules) mindlessness, negligence, lack of knowledge and training about road usage, name it. Among other causes such as faulty machines or designs, substandard processes, occupational hazards and fires.
I don't know whether we actually care about these accidents or the impact these accidents are having on our society. You only see people complaining about accidents when they are involved or when they nearly get involved. If we care to know the number of people dying through accidents this is it, A total of 2,076 people died in road traffic accidents in 2017.
This is eight people less than the 2,084 people killed in 2016. 514 Females killed in 2017.
Data compiled by the Motor Traffic and Transport Department (MTTD) revealed that 514 females, comprising 379 above 18 years and 135 below 18 years, were killed in 2017. Do we actually feel sad upon hearing or seeing some of these things? The big question I keep on asking myself every day is, who are those responsible for these accidents?, lets limit ourselves to road accidents, some drivers don't just care about the people on board. Conversely, some passengers don't care about their safety, dual negligence. For instance, a driver drinks alcohol or smokes and starts driving and over-speeds but unfortunately many passengers will claim they are in a hurry to reach their destinations hence they wont complain.
What's extremely worrisome is when a police or road safety officer intervenes just to ensure safety,many passengers will start passing comments, insults on this police who is doing his or her duty to ensure safety on our roads. Most passengers never care about their safety because I wonder how many of us try to enquire about the driver before boarding his or her car. Even if the driver is drunk or is over-speeding, nobody cares. Most of us can testify that, a lot of drivers make calls when driving and passengers see it normal.
Have you ever corrected this wrongdoing as a passenger before? I guess silence is your best answer. Dear pedestrians, we sometimes walk or cross the road as if its a normal walk way without cars. Please always remember its a road not your compound so be swift. These are some of the things that causes accidents in our countries, I personally believe that, it's only on rare occasions that we can prevent accidents, trust me almost all our accidents that are happening are preventable, I wish we all join hands to reduce these accidents and save lives, that will lead to a significant increase in our country's productivity and also the world at large.
LETS STOP ROAD ACCIDENTS
Suntaa Abudu Ibrahim
UDS Nyankpala campus
Social Change Communication