Social Media & Career Seminar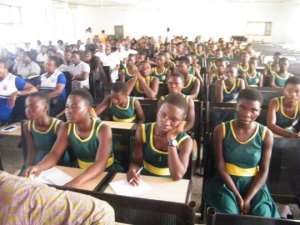 Social media can play significant roles in re-transforming career guidance practices for students who need assistance with career exploration and decision-making.
This was contained in a 14-paged paper presentation by Joseph Konlan Damkwani and Francisca Atsupui Sosu on behalf of their colleagues, Post-Diploma students of University of Education, Department of Psychology, Education Guidance and Counselling, Practicum 2 Group 5 at a seminar they held at Winneba.
It was on the topic 'Social Media and Career Decision Making: Focus on students' to educate participants on factors that go into making the right career decision for students.
It said Social media challenges traditional interactions and relationships between career advising bodies and students as control was shifting from 'experts' in career guidance to a blend of career guidance and socially-constructed knowledge.
The group suggested that a better influence of social media on students and its connectivity should be guided, saying Parents, Teachers and counsellors should regulate and advise students on the contents to access on social media and also to encourage them to use social media to connect with experts outside classroom for mentorship.
They stated further that career decision making helped students in making more satisfying career choices, empowered them with the right knowledge to achieve career dreams and to observe and prevent unrealistic care expectations.
Easy access to career information, ability to develop skills under-developed, ability to connect with people of like minds, provision of digital literacy and collaborate learning by students were some of the positive influence of social media on career decision making.
They appealed to school authorities to organise adequate guidance services to create awareness for students to differentiate positives from negatives.
Dr. Dandy George Dampson Head of Department of Psychology and Education in his address said the Post-Diploma students programme was introduced in UEW in 2004/2005 academic year to train professional counsellors and to equip beneficiaries with relevant skills and professionalism in Guidance and Counselling.
Since its inception, over 700 students drawn from the security sector, health institutions, educational sector, social and religious bodies and some individual have benefited.