"Hold your fire" —JAK tells aspirants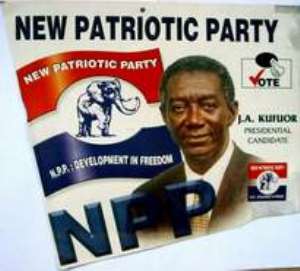 President Kufuor has advised New Patriotic Party NPP functionaries, in his executive, nursing the presidential ambitions, to tarry a while, so that government development programmes are executed, without hiccups, to ease the re-election of the party in the 2008 elections.
In what could pass for his maiden direct comments on the burning desire of a number of his appointees, to succeed him, the President is reported to have stated, at a Cabinet meeting, two Thursdays ago, July 21, that, although three and half years may not be enough for those with such ambitions, it is such a wide span of time in the life of a government and therefore they should tread cautiously.
Names of the ministerial heavyweight are already on the lips of the Media practitioner, and political commentators regarding those who have commenced moves towards positioning themselves for the presidential ticket of NPP come 2008.
NPP is expected to hold polling station elections between August 19 and 31,2005 to begin a series of elections which will lead to its holding a national congress in mid November, 2005.
The Vice President Alhaji Mahama, Dr Kwame Addo Kufuor, defence minister, Nana Addo Danquah Akuffo Addo, foreign affairs minister, Mr Alan Kyeremanten, Trade and Industry minister, Yaw Osafo Maafo, Education and sports minister, Mr Hackman Owusu Agyeman, Works and housing minister, Papa Owusu Ankomah, interior minister and Dr Kofi Konadu Apraku, minister of state for regional cooperation and NEPAD are noted to be in the NPP presidential race.
Madam Hawa Yakubu, a former Tourism minister and defeated Member of Parliament for Bawku Central has publicly indicated her intentions to contest the NPP presidential race and has already started campaigning, beginning from the Upper West Region.
Following the footsteps of madam Yakubu, is Boakye Agyarko, Deputy Governor of Bank of New York, in the USA, who has also, publicly expressed his interest to contest the party's presidential ticket, for the 2008 elections. Mr. Agyarko is a member of the US branch of NPP.
Reports say President Kufuor insists that such aspirants particularly in his Cabinet, should work tirelessly, without distracting the government, for the next sixteen months, at the end of which, he indicated, they could bow out to pursue their ambitions.
Political analyses indicate that the big question is whether the aspirants would listen, and go by the advice of the President.
The fear of the President, and party gurus is that the man oeuvres by such aspirants, who are highly, placed government officials could cloud their visions and possibly," make them conspire and work against one another in the party and government which they aspire to lead."
President Kufuor is again reported to have urged such aspirants to " work harder at their various sector ministries and let their good works speak for them and endear them to their party and the good people of this country."
Keen on ensuring unity within the NPP President Kufuor implored that there will only be one person to replace him, and all others will have to work with such a choice at the end of the contest in the collective interest of the party and its members.