$100,000 Educational Facility For Ayakomaso Methodist Basic School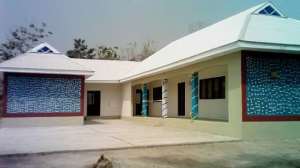 A new educational facility, constructed at the cost of $100,000, for the Ayakomaso local Methodist Primary and Junior High School in the Sunyani West District was inaugurated over the weekend.
It was constructed by the Council of Brong-Ahafo Associations of North America (COBAANA) and consists of classroom blocks, office, dining hall and Information Communication Center (ICT).
COBAANA is a group made of 500 Brong-Ahafo citizens residing in North America.
According to school authorities, the facility would bring a great relief, and facilitate effective teaching and learning among the 49 students in JHS one, two and three who have in the past two years, attending classes under trees and a dilapidated structure.
Mr Martin Obeng, the Sunyani West District Chief Executive, thanked the Association for the gesture and gave the assurance that the Assembly would maintain the facility.
He said the government is determined to ensure that the free Senior High School programme benefits majority of Ghanaians and advised the teachers to redouble their efforts and work hard so that the students would pass their external examination and enjoy the programme.
Madam Judith Yibile, the Headmistress of the school, also expressed her appreciation to the Association, and appealed to the District Assembly to furnish the classrooms with desks.
She urged parents to endeavour to provide their children with some basic educational materials so to sustain their interest in school.
Nana Yaw Adu Sompremo I, the Chief of Ayakomaso, appealed to the District Assembly to help fence the school.
He said the school was situated along the Sunyani-Berekum highway and the fencing would help control vehicular knockdowns.
Mr Alex Ankamah, the President of COBAANA, commended the government for implementing the free SHS programme adding that Association would support the programme.
He said the Association would continue to support government's policies and programmes geared towards accelerated national development and advised other Brong-Ahafo citizens residing in North America who are not yet members to register with them.
This, Mr Ankamah said, would pave the way for them to give back to society and contribute their quota towards nation building.
He commended Ghana Union, another Ghanaian-based Association in Washington for their immense contributions to the projects being executed by COBAANA back home in Ghana.