February 3, 2018
|
Opinions Feature Article
Hatred And Envy For Ken Ofori-Atta Will Not Fly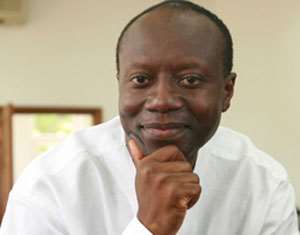 They have been waging a relentless battle of harassment or tactical attrition, palpably tinged with raw envy, against Mr. Kenneth Kuntunkununku Ofori-Atta, since the Mahama-led government of the National Democratic Congress (NDC) resoundingly lost the mandate of the Ghanaian electorate. And so clearly, what one sees here is a foolhardy attempt to reduce the Akufo-Addo Administration to their unprecedentedly corrupt and abjectly regressive level. You see, the NDC's Parliamentary Minority is deathly afraid to compare the resonant success of the Ivy League-educated Mr. Ofori-Atta (we saw this at his confirmation hearings) to the repulsively primitive and troglodytic mess which these shameless gang of scam-artists and extortionists wreaked on the hardworking and longsuffering Ghanaian taxpayer. And so their obvious strategy is to literally kill the proverbial hen that laid the golden eggs.
In sum, the theory here is that if they could remove arguably the most astute Finance Minister the country has had in more than a generation, then, somehow, the hopelessly desperate Mahama Posses could have a fighting chance come Election 2020. What these Tamale "Spare Tire Social Democrats" and their lock-stepping Ho "Trokosi Nationalists" adamantly refuse to accept is the stark fact that most Ghanaians are savvy enough to recognize and heartily appreciate success when they see one. And in Mr. Ofori-Atta, it is quite obvious that these naked monthly marchers have nothing to show for their two terms in office but their "shit-slathered" warty butts. The Akans have a saying that "When the beast is in the throes of death, it kicks and thrashes about." The NDC machine operatives are in their death throes, which is why they are hell-bent on invoking Article 82 of the 1992 Constitution in their ineffectual attempt to censure the putative Father of the Ghanaian Stock Market.
They would have a far better and greater chance in stripping former President John Dramani Mahama of his statutory immunity and having this globally notorious scofflaw and irredeemable reprobate prosecuted for treasonously converting Ghana into a haven for terrorists, than facilely presuming Mr. Ofori-Atta to be a pushover. Better yet, the NDC apparatchiks would have a better chance if they could rationally and intelligently demonstrate that in Mr. Ofori-Atta, Ghana has fared economically worse than any of the charlatanic NDC operatives who held the cabinet portfolio of Finance Minister in the 8 years that Messrs. John Evans Atta-Mills, late, and John Dramani Mahama ruled the roost.
They know they have absolutely no legs to stand on, when they only have the Woyome Mega Heist to show for their warped concept of economic development. Invoking the CHRAJ Report, as I pointed out in a previous column, will not wash because the CHRAJ Report only highlights the fuzzy or woeful lack of any clearly defined guidelines or protocol for the sort of laudable and savvy emergency measures conscientiously pursued by Databank's co-founder to make the country solvent again, in the wake of the criminally predatory scorch-earth policies deliberately pursued by the democratically deposed Mahama regime to hobble the Akufo-Addo Administration's most progressive measures to resuscitate a decidedly bankrupt and insolvent economy.
But that veritable psychological basket cases like Mr. Rockson Nelson Dafiamekporactually think and believe that the key parliamentary operatives of the main opposition National Democratic Congress could facilely co-opt the New Patriotic Party's parliamentary majority into embarking on a suicide pact in the former's favor is nothing short of the abjectly pathetic. It also exposes how the NDC "Social Thuggocrats" have been perennially scheming to create divisions among the ranks of the leaders of the New Patriotic Party, something for which they have been repeatedly exposed and crushed. I mean, where are the Afokos, Agyepongs and Crabbes to do their sinister bidding? They had better think about the wobbly fate of their fast dying political machine, and how not to literally fall unto their own daggers, than quixotically presuming so facilely and naively that they could derail the country's steady and inexorable march towards economic recover and prosperity.
*visit my blog at: kwameokoampaahoofe.wordpress.com Ghanaffairs