February 2, 2018
|
News Regional News
B/A GWCL Introduces Electronic Billing And Payment System In Sunyani
Nana Antwi Boasiako-Ahomka 90.5FM/Sunyani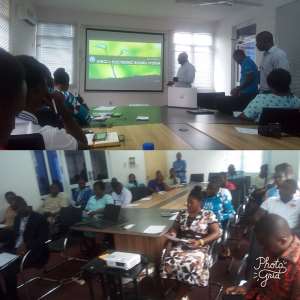 The Brong Ahafo regional office of Ghana Water Company Limited (GWCL), on Thursday launched Electronic Billing and Payment System to help facilitate operations.
Speaking to Sunyani based radio Ahomka 90.5FM,after the launch,The Brong Ahafo Regional Chief Manager of the Ghana Water Company Limited (GWCL), Engineer Francis Agyei-Boateng, said the E-billing system will enable customers to receive and pay bills electronically via emails, text messages on their mobile phones while they are in their comfort homes.
He said, with the new system, meter readers will be capturing customer consumption data with a hand-held android device equipped with a software which already has customers' data.
"The system will calculate customer's water consumption and automatically send them their corresponding bill via text message (SMS) and/or e-mail," he added.
Engineer Francis Agyei-Boateng said electronic billing of customers,will phases out paper billing system.
He said the E-billing will address customers challenges and inconsistencies associated with the current manual system,such as delays in bill delivery, payment delay before reflecting on customers bills,lack of access to customer premises among others.
"We have deployed our workers to take personal data,such as names, phone numbers, email addresses from our customers in the Region" he Stated.
He urged Customers to make available to GWCL, two reliable cell phone numbers each and email addresses if possible, to receive their bills.