NADMO Staff On Strike Over Attack On Their Boss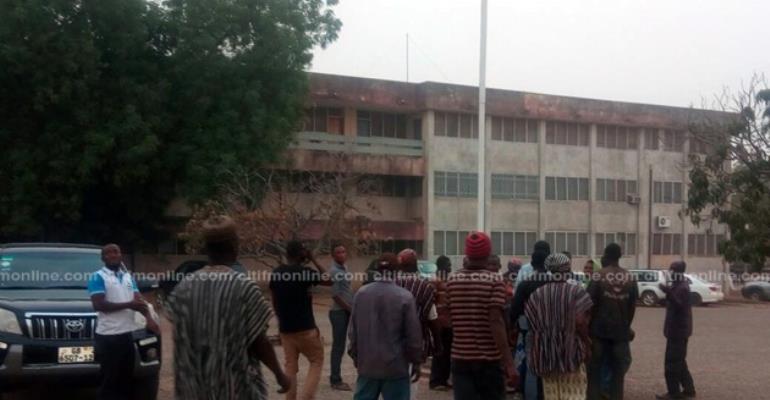 The staff of the Upper West Regional office of the National Disaster Management Organizations [NADMO], have laid down their tools in solidarity with their boss, Isaac Seidu, who was attacked on Wednesday, allegedly by some New Patriotic Party (NPP) youth.
The Youth, believed to be from the Wa East Constituency branch also injured his Special Assistant, who was beaten to pulp.
The cause of the attack is however not immediately known.
Citi News' Latif Mahama reported that, although the Police in the area came in promptly to maintain law and order, Isaac Seidu and his Special Assistant had been wounded in the attack.
The two are receiving treatment at the Upper West Regional Hospital.
Three people were subsequently arrested for their role in the attack, but to the surprise of many, the Regional Minister, Sulemana Alhassan ordered their release with the excuse that it is a party matter.
Political vigilantism in Upper West
This incident marks the third major disturbance perpetrated by youth aligned to the NPP in Upper West Region in the last few months.
On January 22, some NPP youth in the Wa municipality vandalized the residence of the Municipal Chief Executive of the area, Issahaku Moomin Tahiru.
The rampaging youth also vandalized the family house of the MCE and two other houses belonging to his supporters.
In November 2017, NPP youth in Gwollu, the capital of the Sissala West District stormed the precinct of the Assembly and locked up the District Chief Executive, Mohammed Bakor in his office.
They had accused the DCE of engaging in "divide and rule" tactics, and failing to address their concerns.
After the Wa incident, seven NPP supporters were arrested and charged with rioting, including the Sissala West Constituency Chairman of the NPP.